La Petite Maison opens a new restaurant in Istanbul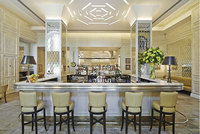 Following the success of the Nice, London and Dubai restaurants, acclaimed restaurant La Petite Maison brings French Mediterranean and Nicoise cuisine to the heart of the Turkish city. Located in the chic, residential yet busy area of Ni?anta?i, Arjun Waney's new restaurant will open early in May 2014.
"It is an honour to take La Petite Maison to Istanbul, which is one of the world's greatest cities. It's a metropolis situated at the nexus of two continents, Europe and Asia, and one of the most ancient yet modern cities of the world" Says Arjun Waney.
Designed by interior architecture firm Sagrada and lighting designer Thierry Dreyfus, the new restaurant promises to deliver a unique blend of French Riviera flavours, culture and atmosphere to the city of Istanbul. The new location features exceptionally high ceilings, a dedicated bar area as well as a 200 square meters landscaped terrace. Designed in the spirit of a "jardin à la francaise" (formal French garden) the terrace is comprised of intimate and refined lounge areas including a stone fireplace in the style of the Renaissance French castles.
La Petite Maison Istanbul welcomes Executive Chef Liam Smith-Laing who previously worked at La Petite Maison in London and in Moscow. Under the direction of General Manager Olivier Lavigne du Cadet, La Petite Maison, Istanbul will offer a delicious and authentic menu reflecting the London and Dubai's restaurants offer with a twist of local Turkish flavours. Guests will be treated to whole roast legs of lamb smoked with herbs and spices, Salade Nicoise, and pain perdu with spiced ice cream.