How to eat from a garden - cooking with Tom Aikens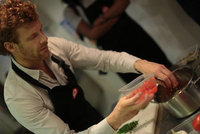 At a recent event in London, Michelin star winning chef Tom Aikens helped out a selection of avid gardeners who use the image website Pinterest. It came after trend spotters had noted that more and more of these 'Pinners' had been using homegrown goodies when getting creative in the kitchen.
The cook-a-long started with beetroot marinated salmon with beet dressing and pickled baby beets. After a little confusion over pickling juices, the salmon was being seared and before you knew it, out came 20 perfect plates of pinky-red fish.
Next up came in-shell baked scallops with a sauce vierge.
The final dish sea bass with herbs, pea shoots and orange took every last ounce of multitasking energy from the Pinners, coordinating plating up the veg and fish so that it could all be served piping hot. It really was a seafood adventure.
If you want to find out more about the recipes cooked and the tasty creations make sure you look at Tom's Pinterest page.
About Tom
Tom has been cooking since the age of 16. Born in 1970 in Norwich, he was inspired by his father and grandfather who were both wine merchants. He tagged along on their exploratory trips throughout France sampling the best of the different regions have to offer. He was hooked.
After studying at Norwich City College Hotel School with his identical twin brother, Rob, who previously worked with him at Tom's Kitchen, he forged a career in cooking at legendary establishments that included Pierre Koffmann's Tante Claire as it won its third star, and London hotspot, Pied à Terre, when it gained a second Michelin star, cementing his status as one of Britain's most exciting chefs.
In April 2003, Tom Aikens Restaurant opened in Chelsea and has since garnered rave reviews and accolades, including a Michelin star since 2004. In January 2012, Tom Aikens Restaurant re-opened following the move towards a more informal style of fine dining and interior refurbishment. True to form, the restaurant upholds the culinary excellence found in like-minded establishments in a refreshingly relaxed setting.
A second restaurant, the brasserie-style Tom's Kitchen, opened in Chelsea in 2006. In conjunction with Compass Group, a second Tom's Kitchen site launched at Somerset House in September 2009. In June 2013 he celebrated the arrival of Tom's Kitchen, Deli and Bar in Canary Wharf and the restaurant group's first International flagship opening in Istanbul in September 2013.
Tom has written three books; Cooking (2006), Fish (2008), and Easy (2011), and has collaborated with designer David Linley on a beautiful range of kitchenware. Tom collaborated with Qatar Airways and an all star team of culinary ambassadors to create the 'Qatar airways culinary world menu' for discerning first and business class passengers.
The celebrated chef is dedicated to serving only the highest quality, ethically sourced ingredients and continually supports The Environmental Justice Foundation to raise awareness of illegal 'pirate' fishing and diminishing fish stocks.
Tom has made several appearances on television and reached the final banquet of last year's Great British Menu on BBC2 in aid of Comic Relief. He has also appeared on Saturday Kitchen and Market Kitchen. Tom works closely with various charities including: the Great Ormond Street Hospital Children's Campaign, Royal Marsden Cancer Campaign and School Food Matters, where he teaches young children basic cooking skills.
Tom is an avid sportsman and has a great passion for cycling. He has entered races including the Marmotte, Luc Alphand and the Etape de Tour up Mount Ventoux. In addition to participating in several London Marathons, he also completed the Marathon des Sables in 2010, running six marathons across the Sahara desert in five days to race money for Facing Africa. Tom was a part of the 2012 Ambassador Programme for the BOA and assisted with raising funds for Team GB. In 2012, Tom was honoured to be selected as a Torch Bearer for the London Olympics and carried the Olympic Torch through the streets of Chelsea.