All-new Peugeot 108: A more practical proposition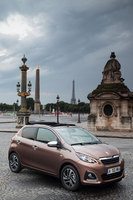 Small but perfectly formed, the all-new PEUGEOT 108 takes city car versatility to a new level. With a raft of enhancements over its predecessor – the hugely popular 107 – the newcomer is an urban runabout that's exceptionally user-friendly for day-to-day motoring.
Some of the improvements have taken place in the boot, a vital and often under-appreciated area of consideration for today's small car buyer. Now boasting 196 litres of carrying capacity – up from 139 litres on the Peugeot 107 – it's large enough for the 'weekly shop' from the supermarket. The boot sill is also 20mm lower for easier loading.
Another practical innovation is the new parcel shelf. Gone is the solid unit of the outgoing model, replaced by a neat fabric cover which conveniently lies flat against the inside of the hatchback glass when the boot is open. As the boot is pulled down, the cover cleverly pivots to the horizontal, hiding whatever is below. The hatchback itself now features twin gas struts for additional stability when open, compared to the single support on the 107.
Also at the rear of the Peugeot 108 is another convenience feature – a reversing camera built into the rear bumper, just above the number plate. It's standard on the two highest trim levels in the range, Allure and Feline.
The rear bench seat splits 50:50 for additional practicality, and each side can be folded using a separate fabric handle accessible from the boot. Interestingly, these handles are the only component of the 107 carried over to the new car. Two rear seat ISOFIX child seat fixing points are standard on the Peugeot 108.
Available in three and five-door body styles, the car has generous interior space for up to four occupants, with almost identical cabin measurements to the 107. The driver's seat is now height-adjustable on all but the entry level, Access trim, and on three-door models both front seats gain a memory function. This means they will always return to the same position when tilted forward to allow passengers into the rear.
Furthermore, seat quality, comfort and support have been improved dramatically when compared to the 107. The PEUGEOT 108 is a car customers can happily sit in for long journeys should the need arise.
Premium features are part of the 108 ownership experience. On all but Access trim level the car comes with a multi-function steering wheel, allowing drivers to keep their hands and eyes where they should be as they travel. For comfort, air conditioning is standard on three out of the four trim levels, including – for the first time – climate control on top spec Feline models.
Cabin storage has also been upgraded. For example, the passenger-side glovebox now has a lid for the first time and includes a horizontal cut-out section which is designed to take a one-litre drinks bottle.
These are just some of the ways PEUGEOT has made the all-new 108 an exceptionally practical vehicle, improving on the already high standards of the 107 to meet the needs of today's small car buyer. Ivo Groën, Design Director of the PEUGEOT 108, commented: "The 107 and 108 share the same roots but the 108 is a much more mature vehicle. It's a real Peugeot."