The Arch London goes back in time with launch of retro cocktails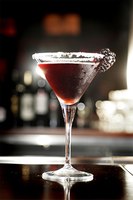 The Arch London in Marylebone has launched a range of retro revival cocktails, inspired by classic icons such as Grace Kelly, Marilyn Monroe and Frank Sinatra.

Leading the trend for spurning complicated molecular drinks in favour of more timeless classic cocktails, The Arch London's head mixologist has stirred up a new range of nostalgic throwback cocktails inspired by the golden age of the 1950s.
Guests at The Arch London can go back in time with cocktails such as:

The Grace Kelly Martini
Made with fresh muddled Blackberries, Plymouth Sloe Gin, Creme de Casis, Lychee Liquer and Lime Juice, the Grace Kelly Martini oozes timeless elegance, just like its namesake.
Happy Birthday Mr President
The Happy Birthday Mr President cocktail is inspired by Marilyn Monroe, and is created using a seductive concoction of fresh Blueberries, Barcadi, Creme de Casis, Lime and Grapefruit Juice over crushed ice.
My Way
Influenced by Frank Sinatra's popular hit, the My Way cocktail includes a mix of American Bourbon Whiskey which was said to be the singer's signature drink, plus Apple Liqueur, Pear Puree and Apple Juice.
Rock Around The Clock Martini
The Rock Around The Clock Martini is inspired by the 1950s hit by Bill Haley, renowned as the Father of early Rock 'n' Roll. The Martini is an unusual blend of Bloom Gin with Fresh Cucumber and Lemongrass, St Germain, Aloe Vera Water and Elderflower.
Each cocktail is priced at £12 and can be enjoyed in the suitably glamorous settings of the vintage style Martini Library, or Champagne de Salon within the hotel.
The Arch London is a contemporary boutique hotel in an enviable central London location, tucked in a quiet leafy street just a stone's throw from Bond Street and Hyde Park. Spanning seven Georgian townhouses and two mews houses, it offers a combination of English heritage and the ultimate in contemporary style.
The Arch London, 50 Great Cumberland Place, Marble Arch, London W1H 7FD

For reservations, visit thearchlondon.com