Prepare your tastebuds for annual Melton Mowbray Food Festival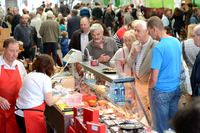 The 11th annual Melton Mowbray Food Festival will be held again in the town's Cattle Market from 4-5 October 2014.
The Melton Mowbray Food Festival is one of the largest regional food festivals in the country, set in the heart of the town known as the UK's Rural Capital of Food.
Over 150 exhibitors will be showcasing their produce at the Festival and this year, visitors can sample not only the local, traditional Melton Mowbray Pork Pies and Stilton Cheese, but also a range of delicious foods such as stunning new alcoholic ice creams, artisan cheeses, gold-infused bubbly, steamed puddings, chocolate kebabs, gourmet British game, locally-brewed ales and many more, from the region and beyond.
Celebrity chefs, regional cooks, bakers and bread makers including Rachel Green, Linda Hewitt, Joe Hunt, Stephen Hallam and Jo Pratt will be demonstrating a range of recipes in the Festival theatre. Uniquely this year, to commemorate the start of WW1 in 1914, the Women's Institute will be organising displays on a WW1 theme. A family food and fun area will keep the kids entertained as well as teaching them about food in a fun and interactive way.
Tickets are priced at £6 on the day or £5 in advance from goleicestershire.com/foodfestival online or in person from Ye Olde Pork Pie Shoppe in Melton Mowbray. For more details on the Festival, visit meltonmowbrayfoodfestival.co.uk
The Festival is organised by the Melton Mowbray Food Partnership, with support from Samworth Brothers, NFU Mutual, Bouverie Lodge and Melton Borough Council.
For information on exhibiting, contact Lin Machin at info[at]meltonmowbrayfoodfestival.co.uk or call 07944 204555.