Dapper gents cause suits sales storm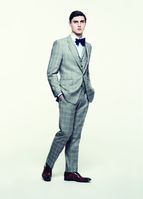 For the first time in decades sales of three piece suits have overtaken sales of two piece options at department store Debenhams.
The trend for tailored three piece suits and smart dressing has shown a marked increase in recent weeks with sales soaring by 44%.
Lizzie Singleton, spokesperson for Debenhams says; "Guys are smartening up their act - we haven't seen men looking this smart since Chris Eubank single handily killed the trend in the 1990s.
"Gone are the days of casual summer dressing – men are keeping up appearances in smart tailoring but opting for lighter options such as linen."
As London Collections: Men (men's fashion week) starts today (15th June), the retailer is preparing itself for a further sales spike after 3 days of London's most fashionable gents will be about town and dressed to impress. Stats from the department store also show that it is all about the finishing touches; with the sales of men's pocket squares +14%, bow ties +22% and tie clips +27%.
Celebrities championing the smart look include; David Beckham, David Gandy, Patrick Grant, Tinie Tempah, Michael Fassbender, Dermot O'Leary and Ant & Dec.
Lizzie Singleton continues; "Men are not always known for dressing in a flamboyant way; however we have seen a trend for a much more theatrical fashion."
The biggest shift has been seen in the age of the retailer's suiting customer - younger men than ever before are now adopting the super smart look.
Lizzie Singleton concludes; "Men in their late teens, early twenties are embracing their dapper style and showing the older generation how it's done."
One of the retailer's most successful lines is the Hammond & Co. collection by Savile Row tailor and Sewing Bee judge, Patrick Grant, which has been particularly popular with guys in their late teens.
Debenhams SS14 suiting collection is now available in all stores nationwide and online at Debenhams.com. Prices start from £99.