Ragley to host Great British Food Festival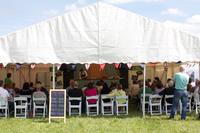 Ragley will be full of food lovers, chefs and artisan cooks for the first ever Great British Food Festival in Warwickshire which takes place on the 13 & 14 September. The line-up includes over 80 top local producers, celebrity & local chef demos, talks, kids and adult cookery lessons, great live music, a 'Cake Off' competition and 'Men v Food' challenges.
Top local and regional chefs will be giving free demos, offering hints, tips and advice to would-be bakers. There is also a "Cake Off" which is open to anyone to enter, amateur bakers can bring along a cake and have it judged by the experts and by the public. Winners from the cake off will take home a fantastic foodie prize - and best of all, all entrants get free admission to the festival!

How about taking on the Men Vs Food Challenge? Challengers will be taking on either the Men V's Meat, Men V's Heat or the Men V's Wheat challenge. The various tests are open to all men and women and involve a foot of chilli sausage, half pound burgers, extra hot 'suicide sauce' and pints of cider to name just a few.
Man V Food organiser Tim Rushton said: "We've done this a few times now and it's always entertaining, the hot sauces are a struggle for most! Lots don't finish it. If you think you can, then get down to the event and the crowd acclaim, and a Man V Food Champion t-shirt could be yours!"
For those who fancy a more relaxing day out, just sit back and enjoy the great live music with a tasty meal, in the beautiful surroundings of Ragley. Lots of the event is under cover so come rain or shine visitors will have a good time! The Festival is the perfect recipe for a fun, foodie day out for the whole family.
Tickets cost £7.50 per adult, £3.50 for 5-12's and under 5's are free. The cost also includes grounds and gardens access to Ragley. For full details about the Festival, visit greatbritishfoodfestival.com.
For more information on Ragley, visit the website at ragley.co.uk.