Toyo Tires releases Proxes T1 Sport In new sizes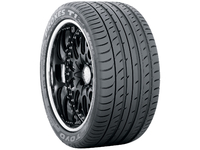 Respected Japanese tyre manufacturer Toyo has released details of two new sizes for its popular Proxes T1 Sport tyre. In addition to the impressive range already available, owners and tuners now also have the option of both a 225/45/ZR19 and 225/50ZR17 fitment.
This sector of the market has been one of Toyo's many areas of excellence for several years now, and this new tyre builds on the technology proven of the rest of ultra-high performance Proxes range. The Proxes T1 Sport builds on this proven design philosophy, but adds several new tricks into the mix to create a tyre that runs even more quietly and offers exceptionally capable wet weather performance.
For cars that often are pushed to the very edge of their performance envelope, the Proxes T1 Sport offers peerless highway speed stability and precise handling on both wet and dry roads. Designed to be the ultimate Ultra High Performance (UHP) for medium and large sports saloons and coupes, it is perfect for platforms like the BMW 3 Series, E-Class Mercedes and Audi A5 and A7.
As you might expect, to achieve this kind of performance has taken some impressive R&D. The specification and construction of this tyre sets new standards in the industry for this market sector. The case itself features a high-stiffness belt and innovative belt reinforcement to achieve high-speed stability, which is augmented further still by the new harder silica compound which offers precision in driving balanced with exceptional ride comfort. A high-hardness bead filler ensures quick and linear steering response and the rigid Rayon ply enhances directional stability and high-speed cornering prowess.
The tread pattern itself is also worthy of note. The solid, notched inner rib improves braking performance and reduces irregular wear and the super-wide centre rib (on 285 section and over) increases handling response and the recipient vehicle's high-speed stability. On the outside of the case, wide shoulder blocks ensure that maximum contact patch to give this tyre exceptional handling. The risk of aquaplaning has also been hugely reduced by wide circumferential grooves that can expel gallons of water in mere seconds. With so many premium saloons offering sports car performance these days, Toyo's engineers have ensured that these tyres are more than up to the job of coping with it all!
Clever case design is nothing without a carefully selected compound formulation, and here too, the new tyre doesn't fail to disappoint. A special bonding agent increases the interaction between each compound element to reinforce the bond between molecules for higher compound rigidity and stability during cornering and braking. The result is a tyre that telegraphs information back to the driver while holding huge amounts of grip and stopping performance in reserve.
Prices are in line with the rest of the Toyo UHP line-up and other sizes in the line-up range from 205/55ZR16 right through to the impressively sized 325/25ZR20.
For more detail on this or any other Toyo Tires product, visit toyo.co.uk.