New luxury beach club opens this summer in Rovinj, Croatia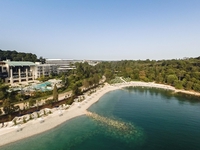 A new beach club featuring a waterfront lounge bar has been launched by hotel company Maistra in an idyllic location in Rovinj, Istria – one of the sunniest spots in the Adriatic – bringing to Croatia the latest venture in understated luxury lifestyle.

With an emphasis on exclusivity and a contemporary aesthetic influenced by the nearby Hotel Monte Mulini, Istria's first luxury hotel, and Hotel Lone, a member of Design Hotels, Mulini Beach has been created to seamlessly extend the five-star service beyond the confines of these two sea-facing sister properties.

Immersed in nature, the beachside venue is graced with views of the Golden Cape Forest Park and the crystal-clear waters of the Lone Bay, offering a peaceful, scenic setting for relaxation by day or night.

Main facilities, including the bar, showers, and changing rooms, are housed in a low-rise pavilion-style structure built in natural stone and sheltered by a beautiful steel pergola-like roof. The low-profile exterior of the building, complemented with Mediterranean plants, has been designed to blend harmoniously into the surrounding landscape.

The Mulini Beach bar, with a 50-seat open-air dining area, will transform in the evenings into a low-key cocktail bar, complete with lounge furniture spilling onto the terrace, candlelit tables, and twice-weekly events. Adding to the laid-back atmosphere, ambient music specially curated for the beach will combine with live sessions by resident DJ Rea, who has performed at several well-known international music festivals.

Inspired by Croatian and Mediterranean cuisine, the food menu includes oysters, tramezzini sandwiches, fresh salads, and snacks popular among locals in summer, such as chilled jars filled with chickpea purée, creamy aubergine and lemon purée, and parsley and bulgur wheat salad. There will also be frozen yogurt with assorted toppings, fruit, and ice-cream, as well as beverages supplied by selected brands, ranging from juices, smoothies and milkshakes to cocktails, Champagne, and Istria's famed 'Malvazija' wines.

Open daily throughout the summer season, the club will also provide hotel guests with an on-site concierge and complimentary use of stylish sunbeds arranged by the sloping pebbly shores.

Fitting with the elegance of Hotel Monte Mulini and Hotel Lone's collaborative design ethos, the chic and trendy uniforms, including peg trousers for female staff, were crafted by Croatian fashion designers I-GLE, the duo responsible for all textiles at Lone, including a bespoke clothes range on sale in the hotel's Prostor boutique shop.

Mulini Beach club is part of the Lone Bay beach, a small stretch of coastline which has been redesigned by Croatian studio 3LHD (the architects behind the award-winning design of Hotel Lone) to offer a refreshed and better equipped seaside destination for hotel guests, visitors, and the local community. Frequented by sun-seekers, swimmers, joggers and cyclists, this tranquil recreational area now boasts a new promenade leading towards Rovinj town centre, more eat-in and takeaway options, as well as new sunbeds available to rent.

For more information about Mulini Beach Club, visit maistra.hr.