Moduleo makes headway with unique warehouse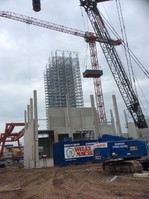 A state-of-the-art, robot operated warehouse is fully underway at luxury vinyl flooring manufacturer, Moduleo's Belgium headquarters.
The new 30 storey warehouse can hold in excess of 30,000 pallets and will cater for Moduleo's evolving product range.
The eco-friendly factory will also be supported by the manufacturers own wind farm, with the first piling just recently installed.
David Bigland, MD of Moduleo UK and Eire comments: "As a company, we are wholly committed to offering an environmentally-friendly manufacturing process, and are delighted with the progress on the warehouse and wind farm.
"Investment in our own wind farm will allow our production process to become entirely energy-independent in the not-too-distant future. This means our customers also benefit from the peace of mind that their flooring is as nature-friendly as can be!"
All Moduleo products contain at least 35 per cent recycled material of verified origin and are themselves recyclable; while the company's Belgian production plant meets the strictest EU air and water pollution policies.
David adds: "Together with our unique, robot operated warehouse, we have some fantastic new ranges in the pipeline; and so this is an exciting time for Moduleo.
"Our improved headquarters will allow the team to continue to develop and deliver the innovative and stylish designs that have allowed us to go from strength-to-strength."
Moduleo produces a diverse range of vinyl floor tiles in a large selection of colours and finishes.
For further information, visit moduleo.co.uk.