City Social Bar: Innovative cocktails above the London skyline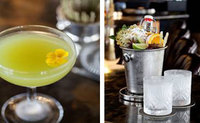 On 1st May, renowned chef and restaurateur Jason Atherton, in partnership with Restaurant Associates, launched City Social within iconic skyscraper Tower 42. Situated adjacent to the restaurant, the City Social bar serves quality cocktails inspired by the 1910-1930s prohibition era, created by award winning mixologist Gareth Evans (group bar manager across Jason Atherton's restaurants). A bar snack menu, designed by head chef Paul Walsh (previously sous chef at Royal Hospital Road), is also available. The 85 cover room features art deco style interiors by award winning designers Russell Sage Studios, against the backdrop of the stunning London skyline from its location on the 24th floor.
The playful drinks menu offers a selection of innovative cocktails to suit all tastes. These include: Rhu Scholarship (oak smoked vodka, rhubarb confit, pink grapefruit, Cocchi Rosa, egg white and rhubarb "bacon"); Pea-lini (salted pea cordial, spearmint, Butterfly absinthe, citric acid, prosecco, and British summer); and Afternoon Ti (brown bread infused Agricole rhum, banana, condensed milk, "Supermalt" syrup, milk carton, candy stripe). Two sharing cocktails also feature on the list, In-cider Trading (Somerset 10 year cider brandy, Kamm & Sons ginseng spirit, Chocchi Rosa, St Germain elderflower, essence of success, secret dossier, in-cider knowledge, briefcase, high pressure) and Pretty Fly For A Mai Tai (Trois Rivieres Agricole, Flor de Cana Silver dry, clear almond, crystal citrus, dry curacao, tiki overkill, silver service and ice rocks). Alcohol free options available are Brrrapple (Bramley apple cordial, mint, lemon juice, blackberry, and soda) and Probiotic (pineapple, grenadine, lemon juice, yoghurt powder and ginger beer).
The bar snack menu offers a selection of small plates, perfect for sharing, alongside large plates, for those desiring a more substantial dish. Small dishes include: goat's cheese churros with London truffle honey; baby Cornish squid with green chili and lime salt; and smoked pork empanadas, harissa and red onion compote. Large dishes available are: traditional fish pie served with lobster; "KFC" with grilled chicken, fennel, mizuna and confit lemon salad; and shrimp roll with spicy Marie Rose and duck fat chips. The surprise star dish is the Ploughman's basket - Scotch egg, salt beef, Isle of Mull cheddar, served in a traditional straw hamper; a red and white gingham cloth is laid at the table with pickles, chutneys and salad. Designed to share, this is the classic British picnic with a view like no other.
Working with Atherton, Russell Sage Studios has created a contemporary art deco look to the City Social bar. The venue is elegant with fine simple finishes. Accents of brass and mirror sit alongside rosewood panelled boards, chrome and smoked glass. Guests are able to enjoy incredible views of London from wherever they are seated with floor to ceiling windows overlooking London's landmarks. Guests visiting on a Saturday afternoon will also be treated to live jazz sessions taking place in the City Social bar from 12-4pm. Musicians such as singer Jessica Sweetman and the Greg Davis trio will play alternative weekends in the space, in-keeping with the vintage style.
Following the success of The Blind Pig, his debut bar located above Social Eating House restaurant in Soho, Atherton and his team have once again designed a drinking venue set to shake up the London bar scene. Gareth Evans, winner of World Class GB 2013, oversees a team of top mixologists at the City Social bar; his witty names for cocktails and use of unusual ingredients have become synonymous with Atherton's social brand. Having already received rave reviews, The City Social bar will continue to attract people from all over London and beyond in search of innovative drinks, outstanding food and breathtaking location.
City Social Bar
citysociallondon.com
Opening Hours: 12noon - 11pm