Chef takeovers at Opera Tavern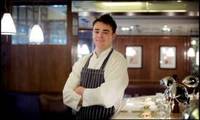 This summer will see a series of exciting 'chef takeovers' at Covent Garden tapas restaurant Opera Tavern. James Cornwall, Head Chef at J Sheekey will be kicking things off, serving four tapas-sized dishes of his own creation, which will run alongside the existing Opera Tavern menu, for one night only on Monday 14 July.
Guests will be able to choose from dishes including; Dorset Crab, citrus mayonnaise, quinoa crisps, sea purslane and avocado salad; Var Salmon Tartar with cucumber gazpacho, jalapeño oil and coriander; Cod's Tongue & Cheek, salt cod croquette, smoked cod's roe aioli and scratching; and Smoked Eel, salt-baked heritage beetroots, horseradish, raspberry and elderflower vinaigrette.
James, who joined the J Sheekey team in 2007 as Chef de Partie, just three days after arriving in the UK from New Zealand, grew up in a small farming town where he was exposed to the tradition of simple dishes from high-quality ingredients at a young age. It was this exposure that he credits with influencing his cooking style, with an emphasis on quality ingredients and low-fuss preparation. James's philosophy is straightforward: even the simplest dish can stand head and shoulders above the rest if it's made with the right ingredients.
Working alongside Salt Yard Group's Chef Director Ben Tish, and Opera Tavern's Head Chef Jamie Thicket, James has created a menu that will celebrate fresh and simple ingredients, whilst delivering exciting and unusual flavours.
Further chefs for Opera Tavern's chef takeovers will be announced shortly.
operatavern.co.uk