easyJet launch new routes to Bordeaux and Jersey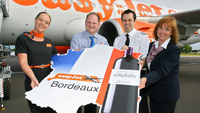 easyJet has launched two brand new routes from Belfast International Airport tomorrow to Bordeaux and Jersey.
The new flights will operate throughout the summer to provide additional easy and affordable holiday options for passengers in Northern Ireland while also attracting visitors from south west France and Jersey. easyJet expects to carry almost 10,000 passengers on the new routes in a boost to Northern Irish tourism.

Flights to Jersey in the Channel Islands operate twice per week with fares starting from £27.49 per person
Flights to Bordeaux in France will operate weekly with fares starting from £29.49 per person

Ali Gayward, easyJet's Head of Northern Ireland, said: "This weekend marks the start of our peak summer season and the introduction of two exciting new routes to our Northern Ireland network. The new routes have already proved extremely popular with holidaymakers looking for new destinations and we hope it will also help boost inbound tourism too."

This month easyJet also welcomed 10 new cabin crew to Belfast International in preparation for the busy summer period. The new crew will work across easyJet's network of 24 destinations from Northern Ireland and have spent three weeks training full time at the airline's academy.

Uel Hoey, Business development director at Belfast International Airport, commented: "The addition of both Bordeaux and Jersey to the departures board at Belfast International Airport is great news for local air travellers and further underlines easyJet's commitment to the Northern Ireland market. These two new routes provide important choice to the Northern Ireland market as we strive to maximise opportunities for air travellers to fly with ease to key domestic and international destinations from their local international airport."