Wild camping and family glamping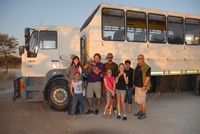 Family holidays will be even more exciting this summer as Acacia Africa have three very different experiences on offer. Small group trips, upscale lodges and glamping options, and a new accommodated overland collection are available for those with kids in tow, the tour operator making Africa more affordable. Covering parks and reserves which house the Big Five, the small five and even their own five, the itineraries combine popular safari locations with off the beaten track wildlife haunts.
Arno Delport, Sales & Marketing Manager at Acacia Africa comments, "Prices for our small group safaris and accommodated overland expeditions are the same year round so parents will not be paying more when travelling in the school holidays. For even better value it's worth looking at countries where tourism is still developing, for example, Zimbabwe – accommodation and park entrance fees on the lower end. Botswana is more price sensitive, but our tours feature atmospheric tented safaris in the Okavango Delta - families camping in comfort without breaking the budget."
Parents who want to cut back on the cost of their Kenya safari should head north of Nairobi on the 7-day Kenyan Wildlife Safari. Famous for its Born Free connection and featured in the BBC documentary "The Secret Life Of Elephants," Samburu lays claim to its own Big Five. The Grevy's zebra, long-necked gerenuk, reticulated giraffe, besia oryx and Somali ostrich are endemic to the national park; the elusive leopard, large numbers of elephant and endangered wild dog also commonly sighted. Combining wildlife and culture, the small group trip passes through the traditional land of the Samburu people and the home of the Maasai tribe - the option of meeting the red robed warriors included on the itinerary. Starting and ending in the capital, Acacia Africa is able to book pre and post tour accommodation, kids being given the chance to steal a giraffe kiss and watch baby rhinos take their daily mud bath in Nairobi. From £985pp (two sharing) + local payment from £537pp including transport, accommodation (2-nights twin share permanent tents with en suite, 2-nights basic camping with shared facilities, and two nights hotel en suite), most meals, services of a tour leader/driver. Year round scheduled departures. Open to families with children from eight years.
Taking mixed groups from eight years and with no upper age limit, Acacia Africa's new accommodated overland expeditions are ideal for multi-generational travellers, but they are also striking a chord with single parents who want a shared adult experience with the kids. This summer, children can make a play date with Tati, Sabie and Songwe, all of the tour operator's 20 trucks named after African rivers. "I Spy" games will continue off road on the 20-day Cape Dunes & Falls tour, with ancient rock paintings etched into the walls of the Brandberg, Namibia's highest mountain, and Lisa, a famous leopard often spotted in Sesriem. The Orange River has fast paced rapids to excite all ages plus more leisurely kayaking spots for those who want to go slow, and walking safaris and the chance to pole your own mokoro are popular family pursuits in the Okavango Delta. River cruising in the Chobe National Park and floodlit game viewing at Etosha make for magical animal encounters en route through Africa, 24/7 wildlife viewing over the vast salt pan keeping the kids wide-eyed after the game drive. From £1,995pp (two sharing) + local payment from £492pp including transport, accommodation (hotels, resorts, backpacker lodges and comfort camping in pre-erected tents), most meals, services of a tour leader/driver. Starts Cape Town - ends Victoria Falls. Year round departures.
The annual migration is now in full swing and so is the Kenya Tourist board's new online campaign - the #?WhyILoveKenya hashtag bound to boost the popularity of a family safari in Africa's Wildlife Capital. In the Masai Mara, parents have a choice of static lodge based safaris with spectacular views over the Mara River and atmospheric glamping accommodation in the heart of this breathtaking wilderness. On Acacia Africa's Short Safaris & Treks there are options to upgrade to family suites, and kids can make a splash in the pool after the game drive. 3-day Mara Lodge Safari from £440pp (two sharing) + local payment from £178pp including transport, accommodation (comfortable twin share lodges or tented camps all with en suite facilities), most meals and services of a tour leader/guide. Starts Nairobi - ends Nairobi. Year round daily departures. Open to families with children from 10 years.
For more information, visit acacia-africa.com.