APM at Zinc: Always Past Midnight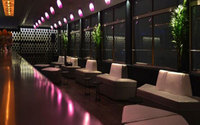 Located at the top of London's iconic Centre Point building, the new nightlife concept, APM at Zinc (Always Past Midnight), have joined forces with the 'World's Best Food Magazine', FOUR and the collaboration is set to revolutionize London's early morning dining and party scene.
APM at Zinc is a member-only after hour's nightclub that caters to London's crème de la crème's late night needs. APM at Zinc will feature a menu created by the culinary experts at FOUR Magazine that will fill the void of exceptional quality food between the hours of 2:30am -7am (a partygoer's most important meal). Residing on the 31st floor of 101 New Oxford Street, this greatly anticipated new venture will be taking luxury, late night partying and indulgence to new heights.
APM at Zinc is a collaboration between Zinc's talented General Manager Greg Ballester and nightlife and hospitality entrepreneurs, Winston Douglas Jr and Danio Domingues. All of them were inspired to found the APM project by their firm belief that 2:30am is when the party truly begins, where revelers can enjoy deep house, cocktails and cuisine until the sun has well and truly risen over the capital.
APM will feature music, drinks and dancing and a four-course, breakfast-inspired seasonal menu which will change every three months. FOUR have previously collaborated on their award-winning magazine with celebrated chefs such as Heston Blumenthal (Fat Duck), Ashley Palmer Watts (Dinner), Simon Rogan (Claridges and L'enclume), Marcus Wareing (Berkeley and Gilbert Scott), Claude Bosi (Hibiscus) and Jason Atherton (Berners Tavern, Pollen Street Social).. Guests can also feel philanthropic about their APM visits as part of the money collected on the evening will be donated to the FOUR Foundation, helping charities to fight hunger around the world.
With sumptuous interior design, expertly mixed drinks, Michelin-worthy food and a host of like-minded people, APM at Zinc is set to be the only place for London's movers and shakers to be seen Past Midnight.
APM At Zinc
Every Friday & Saturday 2.30am-7.00am
Centre Point 101-103 New Oxford Street London, WC1A 1DD