New Citroen C1: Naturally urban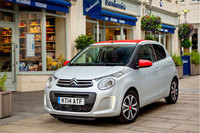 The New Citroen C1 is the latest generation of the popular city car that has sold more than 780,000 examples worldwide since launch in 2005.

With a cheerful personality, attractive styling and impressive efficiency, the New Citroen C1 delivers an upbeat response to today's urban mobility requirements and reflects the bold renewal of the Citroen brand. The New C1 is available as both three and five-door versions as a hatchback and as a new open-top body style, named Airscape.

Buyer Profile
The New Citroen C1 is positioned in the A segment (city cars). Buyers in this sector span all generations, with the highest representation amongst younger buyers. Customers are motivated by a combination of affordability, efficiency, attractive styling and driving pleasure.

Two main customer demographics are anticipated for the New Citroen C1;

The first will be young drivers, typically under 30, the majority being female. They are looking for a stylish and affordable city car that is economical to run and fun to drive.

The second group are older couples looking to downsize both economically and practically.

For all buyers, the New Citroen C1 will represent both the 'smart' choice, combining comfort, economy and functionality and the 'fun' choice, with customisable style, the latest technology and an enjoyable driving experience.

Irresistible Styling
The New Citroen C1 combines a dynamic, lively design with a spacious, colourful interior and compact exterior dimensions. The styling is underlined by the seemingly continuous glass area from the windscreen into the side windows, with black windscreen pillars and depending on the trim level, chrome-finished weather strips and dark tinted rear windows.

The front features all the key characteristics of the brand's newest models, with a new two-part headlamp signature and integrated LED daytime running lights creating a smiling front-end gaze in addition to emphasising the car's cheerful design and strong character.

The lighting effects continue at the rear, with a glass tailgate and the newly designed square light clusters demonstrating a striking 3D effect.

The New Citroen C1 is available in eight exterior colours (including four metallic shades) – Smalt Blue (M), Caldera Black (M), Gallium Grey (M), Carlinite Grey (M), Tapenade Grey, Lipizzan White, Scarlet Red and Sunrise Red, which can be personalised with a choice of chrome door mirrors and door handles on the Flair trim level.

For a touch of urban chic, 14 or 15-inch wheels and covers, and 15-inch diamond-tipped alloys are available.

The interior of the New Citroen C1 is bright and airy with a colourful ambience. With clean, structured lines, the dashboard can feature bright colours on the multimedia panel, air vents and gear lever base. A leather-trimmed steering wheel is also fitted as standard on Flair versions.

Airscape
The Airscape open-top body style is a new alternative for this popular model and is available with both three and five-door models for an even more enjoyable driving experience and a greater sense of fun.

The exceptionally large canvas soft-top (800mm x 760mm) runs practically the entire length of the roof, is fully opening and electrically controlled as standard. The switch is located in the ceiling panel and the roof can be opened or closed when the car is at a standstill or driving at legal motorway speeds.

An aero-acoustic deflector deploys when the roof is opened to maintain acoustic comfort by limiting in-cabin turbulence. With the roof closed, acoustic comfort is the same as the hatchback version.

Airscape versions can be finished with a bi-tone look. To contrast with the body colour, the roof is available in a choice of three colours – Sunrise Red, Black or Grey.

Easy Living
Despite being one of the most compact city cars on the market, the New Citroen C1 is both versatile and practical, carrying up to four adults in comfort, with a spacious front and rear.

The three and five-door versions maintain nimble dimensions with a tight turning circle radius of 4.80m and electric power steering for easy handling – ideal for city parking and manoeuvring.

The New Citroen C1 also combines dynamic, vibrant styling with everyday useful features and an ergonomic design.

The seats have been completely redesigned to improve comfort compared to the previous generation. The new seats boast ergonomic, body-hugging shapes and enhanced side support with new levels of adjustment.

There are storage compartments throughout the cabin, cup-holders and a glovebox with a lid for greater peace-of-mind.

The functional 196-litre boot is easy to access, with the parcel shelf folding away with the tailgate when it is opened. Folding the rear seats increases load capacity to an impressive 780-litres.

The New Citroen C1 offers a range of comfort features, such as automatic air conditioning – a first on the C1 range – and, on 3-door versions, memory settings for the front seats.

Useful Technologies
The New Citroen C1 features intuitive, easy-to-use technologies.

It is available with a 7-inch Touch Drive interface that groups together all of the car's media functions (radio, telephone, on-board computer).

The New C1 is Citroen's first model to feature Mirror Screen technology, which offers an advanced connectivity solution. This function allows the motorist to copy their smartphone content onto the 7-inch Touch Drive interface for easy display and control.

Users install an app enabling them to connect to and share data via the car's USB port, they can then access their smartphone's various functions using the touchscreen. Mirror Screen draws on two technologies – AppinCar developed by Pioneer for iPhone users, and MirrorLink technology, developed by Car Connectivity Consortium for other smartphone brands (Samsung etc.).

Once installed, the motorist can take full advantage of a range of smartphone apps from the 7-inch Touch Drive interface – navigation, telephone, address book, music, web radio and any other useful driving-compatible functions.

A range of on-board technology is also available to make driving easier.

A reversing camera, which projects images onto the 7-inch screen, simplifies manoeuvres such as parking in tight spaces.

Keyless entry and start enables the driver to access and start the car without taking out the electronic key – convenient technology typically seen on more premium models.

Hill-start assist is standard specification across the range. This feature holds the car stationary for two seconds for an easy re-start on slopes with a gradient of over 3%.

A speed limiter and steering mounted controls are also available.

On-Road Comfort
The New Citroen C1 sets high standards for road handling and ride comfort.

The rear axle is 4kg lighter compared to the previous-generation model, there are new suspension springs, new shock absorbers and a new large-diameter anti-roll bar. These changes improve both suspension comfort and road holding.

A new electric power steering system delivers a precise and enjoyable drive with smooth, satisfying and well controlled steering both in the city and on the open road.

At the same time, new tyres with very low rolling resistance and compact dimensions (14 and 15-inches) contribute to the car's effective braking performance and its low fuel consumption.

ABS, EBA, ESC, Cornering Stability Control, six airbag and two rear Isofix mounting points are standard equipment and finish a specification that ensures an enjoyable, safe and relaxed driving experience for everyone on board.

Optimised Running Costs
The New Citroen C1 combines competitive price positioning with optimised running costs.

With a lightweight design (855 – 865kg), very low rolling resistance tyres and Citroen's latest-generation petrol engines, it is exceptionally efficient and delivers low servicing costs. Sub-100g/km CO2 across the range also exempts all models from VED.

With the VTi 68 engine with Stop & Start technology mated to a 5-speed manual gearbox, the New Citroen C1 is amongst the best-in-class for fuel economy, with up to 74.3mpg on a combined cycle and just 88g/km of CO2.

The VTi 68 engine (non-Stop & Start) can be specified with a manual 5-speed gearbox and with the option of an automated manual 5-speed ETG (Efficient Tronic Gearbox). The ETG system features a creep function and optimised pedal mapping, adjusting power effectively for smoother gear changes.

A new choice of power from the PureTech engine family is also offered. This 1.2-litre, 3-cylinder, 82hp petrol engine uses innovative technologies to achieve fuel economy of 65.7mpg (combined cycle) and just 99g/km CO2. This is combined with rewarding performance, including torque of 116 Nm at 2,750rpm and a 0-62mph acceleration time of 11 seconds.

A New C1 Special Edition is available immediately from launch priced at £10,945 OTR.