East End pub scoops CAMRA award with female appeal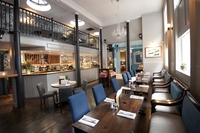 The newly refurbished Dispensary Pub & Dinning Room at Aldgate East has been named CAMRA's East London Pub of the Year, largely because of its appeal to female beer drinkers – despite its links with "Jack the Ripper".
With period features dating back to when it was the 'Eastern Dispensary' hospital for poor Eastenders in the 1870s, now updated with contemporary furnishings and subtle shades of Farrow & Ball paintwork, The Dispensary is especially popular with a loyal female clientele. A cast iron spiral stair case leads to a gallery seating area overlooking the main bar.
Original artworks in the pub were painted by the pub's patisserie chef, Charly Webber, whose other hobbies include "partying" and supporting Arsenal FC.
The pub's appeal to female drinkers endures, despite its historic links with "Jack the Ripper". One of the prime suspects in the unsolved serial killings was Queen Victoria's surgeon, Sir John Williams, who practiced medicine in the building located a few hundred yards from where most of the murders took place.
Eschewing the more usual spritzers, insipid Pinot Griggios and bland Chardonnays consumed by many female drinkers in other City and East End watering holes, The Dispensary serves a high proportion female real ale drinkers attracted by its welcoming ambience and wide selection of craft beers.
"Despite the clichéd image of pot bellied, bearded real ale drinkers dressed in duffle coats and bad shoes, ale has numerous health benefits over drinking wines, spirits and even many soft drinks – when consumed in moderation," said landlady Annie Smith, who co owns the pub with partner David Cambridge, with whom she restored and opened The Dispensary in 2006.
Glass for glass, beer is less calorific than wine, with a half pint of beer with 90 calories in a pint of compared to around 160 calories in 250ml glass of red (150 calories for white wine).
Okoberfest
For three days in October, real ale drinkers of both sexes will be able to sample an extensive array of Paulanier beers when the pub hosts to its own Oktoberfest. The Dispensary will be transformed into a Bavarian 'bierstube', complete with the 'Bavarian Strollers' oompah band and traditional German food. Tickets are £15.
Chef David Cambridge is the former personal chef to some of the UK's most discerning people, including Sir Evelyn de Rothschild.
"I've been privileged in my career and learnt a lot from people who expect nothing but the best, but after 20 years of cooking for grand occasions, I craved a fresh challenge – creating a more convivial atmosphere with an unfussy menu focused on fresh produce sourced daily by Cambridge from the local Smithfield and Billingsgate markets," he said.
New Menu
David's new menu features Carpaccio of beef "Harry's bar" style; Escalope of chicken cordon bleu served with boulangere potatoes; and Homemade ground steak burger with relish and Dispensary hand cut chips.

Desserts include Mars bar cheesecake and Coconut pannacotta chocolate shot.
More infoirmation at thedispensarylondon.co.uk.