Swimwear between the sexes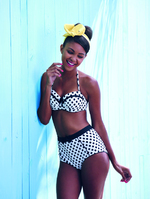 New sales figures from retailer Debenhams reveal women are ditching their itsy bitsy bikinis in favour of feminine 1950s high-waisted briefs and swimsuits, whilst men are revealing more on the beach than ever before.
The department store has seen a marked increase in sales of retro style bikinis - up 17% compared with this time last year. To meet customer demand the retailer is offering ten times the amount of big bottomed style bikinis compared with Summer 2013.
Sales of men's board shorts have been in steady decline, as the smaller, Daniel Craig style swim shorts are most in favour, seeing a 242% increase in recent weeks.
To meet demand Debenhams' swim shorts are on average 2cm shorter than this time last year.
The trend is being put down to women trying to recreate the David Beckham look on their partners for summer holidays - other celebrities backing the trend include David Gandy and Mark Wright.
Lizzie Singleton, spokesperson for Debenhams says: "We are calling this the 'Beckham Boost'; men are clearly taking David Beckham's lead and opting for tight trunks as opposed to billowy board shorts.
Guys are taking the opportunity to bare more than ever before due to the recent warm weather and preparation for the annual Great British getaway, as thousands prepare to jet off abroad in coming weeks."
Women on the other hand have realised that 1950s styles can look more stylish and chic than traditional string bikinis. Celeb fans of retro swimwear include; Rihanna, Poppy Delavigne, Taylor Swift, Kelly Brook, Katy Perry, Naomi Watts and Jennifer Lopez.
Lizzie Singleton continues; "Women are ditching skimpy swimwear and opting for Bridget Bardot styles. Curvier celebrities such as Christina Hendricks and Kelly Brook are proving to be the new bikini idols."
The return of the final season of Madmen is also being put down as a reason behind the trend, with Megan Draper inspiring women to copy her relaxed LA look.
Singleton continues; "It is encouraging to see guys are looking to Beckham and Craig for style inspiration and steering clear of the beach looks demonstrated by Peter Stringfellow and Rod Stewart - our personal shoppers are on hand to help perfect the look."
Debenhams swimwear is available in all stores nationwide and online at Debenhams.com.