Cook in a Michelin Star Restaurant with Steve Smith @ Bohemia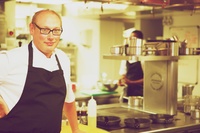 Experience the thrill of live action in a Michelin starred kitchen, with Michelin Starred Chef Steve Smith @ Bohemia in Jersey.
While most masterclasses involve simply learning a recipe, Steve Smith @ Bohemia's will take place at the Chef's Table within the kitchen where the heat is on!

Steve will show his guests all the insider tricks of the trade and share the hottest new trends during this evening event. Guests will be able to sample their own creation at the end of the cookery session. It will be a fantastic opportunity to make new friends, while indulging in high class gastronomy.
The evening, priced at £95pp, will commence at 6pm with a Champagne meet and greet, and the culinary creations will be sampled at 8pm.
Positioned at the Chef's table facing the pass, guests will create dishes they never dreamed they could. For novices and budding chefs alike, Steve Smith will make it a night to remember.
The three forthcoming masterclasses are:
A Taste of Jersey, Thursday 16 October 2014. Using only local Jersey produce, learn to cook exciting dishes with Steve Smith @ Bohemia.
Michelin Masterclass, Thursday 29 January 2015. Learn the ins and outs of working in a Michelin starred kitchen, and produce your own culinary creation.
Let Them Eat Cake, Thursday 16 April 2015. Head Pastry Chef Ellen de Jager will teach how to make the most exquisite cakes and fancies.
To make a booking, visit theclubjersey.com.
The Club Hotel & Spa, Green Street, St. Helier, Jersey JE2 4UH, Channel Islands