Get active in Greece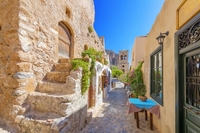 Specialist activity tour operator Macs Adventure has boosted its Greek collection with the launch of two new cycling tours – one in Rhodes and one in the Peloponnese and a new walking tour in the Pelion Peninsula, bringing the total number of Macs Adventure Greek itineraries to six.

Neil Lapping, chief adventure officer of Macs Adventure said: "So many of us head to the beaches in Greece during the summer that we remain ignorant of what lies behind. As the summer heat fades, the Greek countryside becomes ripe for exploring by foot or on two wheels, and in spring beautiful spring flowers augment the spectacular scenery and fascinating history."

The Macs Adventure Greece Collection
New/Walking: Secrets of the Pelion Peninsula from £440 per person

The Pelion Peninsula on mainland Greece is a walker's paradise. Off the beaten track, its association with Greek mythology is legendary – as the centaur lived on Mount Pelion and tutored many Greek heroes. The route for this seven-night holiday winds along old cobbled mule paths, through forests, and along unspoilt coastline of the Aegean Sea. Guests stay in typical 'arhontika' traditional stone houses and can enjoy local specialities in tavernas and swim in the turquoise bays of the Aegean.

New: Pedalling the Peloponnese from £795 per person

This seven night cycling tour in the Peloponnese combines areas of great historical interest and natural beauty with visits and stays in vineyards and an ouzo tasting! The adventure starts on the island of Poros and a water taxi to Galatas and includes two nights at a local vineyard with a welcome Jacuzzi and wine tasting. Trails through citrus groves and traditional villages are enjoyed before reaching the stunning ancient Minoan Palace of Ancient Mycenae.

New: Cycling the Island of Rhodes from £475 per person

Discover one of the most treasured islands in Greece by bike over seven nights. Easy stretches along the coast are interspersed with hillier sections through the interior. Cycle through picturesque and typically Greek villages and be surprised by a vast variety of landscapes, which range from pine forests, fishing villages and coastlines. Historic sites such as the Crusader Fortress of Rhodes Town are en route, plus chances to stop in beach tavernas for a well-deserved rest and a beer!

Walking: Crete Coast to Coast from £495 per person
Discover a diversity of unspoilt landscapes on the Greek island of Crete including secluded and pristine beaches, the mountain of Lefka Ori, the Apokonoras plain and the impressive Sfakia and Aradhena gorges under which are estimated to be as many as 3,500 caves – some of which have been used as places of worship and places of refuge. During the walks on this self-guided tour from the north to the south coast guests will truly feel immersed in traditional areas of Crete that few tourists get to see.

Walking: Island Hopping: Naxos & Santorini from £425 per person
Island hop between two of the most beautiful Cyclades islands in one trip. Naxos has astounding beaches and unusually for a Greek island is green and verdant thanks to Mount Vas, which provides spectacular scenery. Wander through ancient olive groves, cobbles paths past a Venetian fortress and explore an ancient quarry complete with half finished statues. Catch a ferry to the volcanic, crescent shaped Santorini with white villages clinging to the cliffs, blue roofed churches and enchanting towns. Walk the trails and try the unique local produce so famous to the island.

Flights or ferry crossing are not included but Macs Adventure can advise the best travel options at the time of booking.

Walking: Island Hopping: Corfu & Paxos from £735 per person

Enjoy an island hopping adventure in the Ionian Sea. Walk the quiet trails of rural Corfu, wander the narrow streets of the UNESCO world heritage Old Town of Corfu and coastal walks of Paxos. Start your adventure from a beach-front hotel in the former fishing town of Messonghi in Corfu and along the Korission Lagoon, which teems with wildlife and back across the green interior of the island. The ferry to Paxos signals a change in pace. Deserted white sandy beaches, ancient olive groves, vast vineyards, pretty harbours and rugged coasts punctuate this small island which is only seven miles long and two-and –a half miles wide.

For more information, visit macsadventure.com.