Celebrate National Tequila Day at Peyote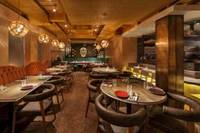 On Thursday 24th July, contemporary Mexican restaurant Peyote, will celebrate National Tequila Day with a talk from Isis E. Ramirez, founder of Casa Ambar, an authentic Mexican family-owned company. Traditionally a Mexican and American event, Peyote will bring National Tequila Day to London, educating diners on the art of carefully matching the subtle flavours of the agave plant spirit to Mexican food. For £25 guests can enjoy the talk alongside a tasting flight of Ambar tequilas.
Starting at 6.00pm guests will be briefed on the history of tequila drinking, introduced to the concept of tequila tasting and talked through the various Ambar Tequilas by Isis E. Ramirez. Eight signature dishes matching four Ambar tequilas will be available following the talk and throughout the evening for £75 or alternatively guests can opt for the a la carte menu.
The tasting menu and tequilas will be offered at £75 per guest, for one night only. For the first course, Peyote's signature guacamole (served with queso fresco and corn chips) and prawn ceviche will be paired with Amber Blanco, an un-barrelled silver tequila. A Mexican take on a fish course of salmon laminados and tuna tostados will come with Ambar Reposado, a soft golden 6-month aged tequila. Pork al pastor tacos and cheese and carmalised onion quesadillas are matched with Ambar Anejo, which has been aged for 18-months in casks to result in a dark good-wood tone. A main course of lamb cutlets with mint habenaro salsa and brocollini is served with the crown jewel of the flight, Ambar Extra Anejo, tequila aged for up-to four years. To finish, a refreshing dessert of sorbet will be served.
Peyote will also mark the occasion by launching a range of its own house infused tequilas, blended and flavoured with cucumber and coriander, caramel popcorn, raspberry, chilli and chocolate and burnt orange.
Peyote will be open on National Tequila Day (24th July) for lunch, from noon to 2.30pm, and for dinner from 6.00pm to 10.30pm. Guests wishing to attend the tequila talk, or dine from either the tasting menu or a la carte should call the restaurant to reserve.
Peyote, 13 Cork Street, Mayfair, London W1S 3NS
Reservations: Via telephone on 020 7409 1300 or via email on reservations[at]peyoterestaurant.com
Website: peyoterestaurant.com