Qbic London to take its success nation-wide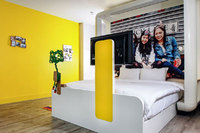 Just eight months after opening in London's East end, the success of Qbic Hotel London City has led to an acceleration of its expansion plans, to include four new sites over the next two years, with a focus on the capital.
The hotel's unique concept, paired with low out-lay costs, a strong business model and competitive return on investment, has fast tracked Qbic's projected growth plans beyond expectations.
Featuring innovative design, sustainable practices and community initiatives, Qbic Hotel opened last November in a disused office block on Adler Street in Shoreditch, just around the corner from Brick Lane. With a lead in price of just £69 per room per night, free WiFi and other quirky offerings, Qbic promises an affordable and sustainable model.
Paul Janmaat, Business Development Director of Qbic Hotel, commented, "Qbic is an incredibly strong investment opportunity for real estate owners and developers. It offers the best formula in the world to transform existing office space into high-margin, budget-economy hotels. Essentially, it's a great way to fill empty real estate with a valuable concept that has already demonstrated high returns. Where the building on Adler Street was previous vacant, thanks to Qbic it is now producing income for the landlord."
Part of the Qbic success is down to the hotel's build-in construction method based on a patented, modular all-in-one furniture 'pod' (the 'Cubi') which is 20% cheaper and 40% faster than traditional hotel construction. Easy to install and remove, the fit-out period for a Qbic hotel is just six months.
It's also one of the greenest and fastest building concepts of recent times. In London, the Cubi enabled an old office building to be converted into a hotel quickly, efficiently and with little environmental impact. The construction method specifically targets existing office buildings, which allows Qbic hotels to be built in the widest variety of locations, including sites that are not feasible for other hotel chains. The Qbic London has also recycled 98% of its waste to date.
Qbic London is the second Qbic property to open, following the success of Qbic Hotel Amsterdam WTC, which launched in 2007. The immediate focus now is on securing further sites in central London, before developing the concept elsewhere in the UK.
Paul added, "We are looking for spaces in the region of 26,900 to 64,600 square feet in zones one and two of the capital, close to transport links. We're already looking in Camden, Borough, Vauxhall and Southwark and welcome approaches by interested commercial property owners and investors."
For more information, visit london.qbichotels.com.