Tips for camping around Moab Utah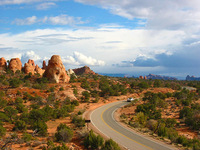 RVing with toys in tow or hooking up for creature comforts of home, Moab satisfies a wilderness experience with an amazing diversity of camping conditions. Moab's Motorized visitors often request assistance for camping close to ATV or 4x4 trails to forego hauling a trailer to trailheads. Preferring to travel lighter, Moab has ample outfitters to take you or lead you or rent to you the equipment needed to explore an enormous inventory of public lands and trails.

Not to be overlooked are photography tours, golf, leisurely auto tours of three National Scenic Byways, self-guided Rock Art auto tours and visits to Dead Horse Point State Park and Arches and Canyonlands National Parks. Granted the changing light on red rock landscapes is astounding in this region, getting tips from local photographers will help turn those memories into indelible snippets of your visit or use the results of National Park shots to enter a contest. Share the Experience, sharetheexperience.org, is accepting national park images until December 31st for the 2014 Photo Contest and have added a new category this year for Night Skies. Among our tour companies is Red Rock Astronomy for gazing into the night sky with a telescope.

Tips for Camping:

Dead Horse Point State Park and Arches National Park provide websites on which to reserve camping in the park. Go online to reserve as soon as travel dates are determined. These campgrounds fill four months in advance.

Camping is a primary activity for Moab. Surrounding wildlands are fragile and unable to recover from any amount of cat holes a visitor might imagine are practical. Human waste and toilet paper are required to be packed out to aid in abiding to the Leave No Trace principles. Tag-A-Long Expeditions, Canyon Voyages and Moab River Rentals have toilets to rent to visitors using public lands overnight. Bureau of Land Management (BLM) sites equipped with pit toilets are an alternative source for primitive camping and especially beneficial to those camping with tents. BLM sites are based on the first come, first served use system. Of course, camping at any of the commercial campgrounds in Moab will have flushing toilets and showers, often refreshing swimming pools. Commercial campgrounds will accept advance reservations to insure a base camp for exploring Moab's more wild places beyond the hem of town.

To ride an ATV out of camp aim to camp in Horsethief Camp off of Hwy 313, Ledge Camps out Kane Creek Road, or in the Sand Flats Recreation area on BLM land. Or reserve a campsite with Archview Resort or Kane Springs Campground. If the OHV is street legal, OK RV Park, Spanish Valley Trail RV Park and Ron's Pack Creek Campground will have some trails accessible from those business locations.

Camping with kids? Select the BLM campground at Ken's Lake because kids' love water. A short trail links the reservoir to the campground and two additional trails are close by for more activity from camp. Or peruse the commercial list of campground for those with playgrounds, arcades, pools and other kid notable activities. Two commercial campgrounds are situated along a creek.

Consider carrying Wag Bags, personal refuse systems, on day trips to keep the backcountry healthy and clean. These are labeled landfill safe waste bags, treated with chemicals. The bags are NOT poured into flush toilets nor disposed of in vault toilets. The EPA (Environmental Protection Agency) approved systems can be purchased locally at Canyon Voyages and GearHead shops along Main Street in Moab or from the store REI. Human waste in the backcountry is a concern for resource protection and human health with Moab's popularity and the volume of visitation in the backcountry.

Some of the Off Highway machines are loud. Be considerate of driving during 'quiet' hours which is generally 10 p.m. to 6 a.m. in campgrounds. Be a good citizen. Adhere to quiet hours in the rural places of Moab as well for the residents of Moab.

Moab Area Travel Council has pages of campground listings for Moab in three categories. Those first come first served Bureau of Land Management sites with pit toilets, picnic tables and fire pits; commercial campgrounds providing flushing toilets and showers, and the sites operated by Dead Horse Point (Utah) State Park, Forest Service and Arches or Canyonlands National Parks.

For more information, visit discovermoab.com/campgrounds.htm.