Tesla opens store and service centre in West London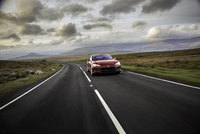 Tesla has opened a new store and service centre in the UK. Accessible from the M4 and M40 in West London, the new location features a Model S design studio, a seven-bay service area, and the UK's first purpose-built two-bay delivery centre. It will also offer Model S owners a free shuttle service to the nearby Heathrow airport.

The retail centre – located at Park House, Horton Road, West Drayton, UB7 8JD – is Tesla's second UK store, adding to the company's presence in Westfield White City. By the end of 2014, customers will be able to visit Tesla stores and service centres across the country. Tesla is currently recruiting for upcoming sales and service facilities in Crawley, Birmingham, Manchester, Bristol, Newcastle, and Edinburgh. The company will continue to hold test-drive events around the UK.

Model S Heathrow Shuttle

Tesla is also announcing plans for an exclusive Model S customer airport shuttle to Heathrow from the new store and service centre. The pre-bookable offering will allow customers the opportunity to have their car serviced whilst away on holiday or business. Tesla will drop off drivers, passengers, and luggage at the airport in time for their flights and meet them in arrivals on their return.

"By taking any hassle out of servicing and flying, I believe that we can delight our customers," said Georg Ell, Tesla's UK country director. "The location of our new West London store and service centre makes a perfect base for this service."

Model S in the UK

Launched in right hand drive in June, Model S is an uncompromised electric car that delivers 312 miles of NEDC range on a single charge. With a 17-inch touchscreen, an outstanding safety record, and an acceleration of 0-60mph in 4.2 seconds, the fully electric Model S breaks the mould. The car and the company have received numerous accolades, includingAutocar magazine's Sturmey Award for Automotive Excellence and Telegraph Motoring's Best Eco Car, voted for by readers. Top Gear Magazine called the Model S "the most important car Top Gear has tested."

Model S has an iPhone app, available in the UK iTunes store. The app puts Model S owners in direct communication with their cars anytime, anywhere. Owners can use the app to check on charging progress, start or stop charging, and heat up or cool down Model S before driving.

In the UK, prices for the Model S start at £50,280 on the road, including the £5,000 government plug-in grant. UK Model S customers can also benefit from other government incentives, including zero road tax, zero showroom tax, and exemption from London Congestion Charge. The car is also eligible for the 100 percent First Year Allowance for company purchase and 0 percent Benefit in Kind, both of which last until April 2015.