Fantastic '64-plate' offers from Peugeot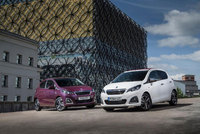 With one of the youngest new car ranges on the market, offering an appealing mix of sophisticated style and value for money, there's never been a better time to buy a Peugeot.

With the launch of the new 64-registration plate, the Brand's Dealers are bracing themselves for a busy August and September – and Peugeot have announced a range of attractive offers to further boost showroom traffic.

Thanks to the debut of the Peugeot 308 – the reigning European Car of the Year – as well as the continued success of the 208 Supermini and 2008 Compact Crossover, Peugeot retail sales are up 17.5% year-to-date (YTD), in a market that is 13.9% up YTD, compared with 2013. The arrival of the all-new Peugeot 108 in showrooms is expected to enhance Dealer performance even more, and strengthen Peugeot's visibility in the vital city car segment.

The all-new Peugeot 108, that characterful new urban runabout that went on sale from 1st July, opens a new chapter for Peugeot small cars. High on style, bristling with connected technology and fun to drive, it's available with a TOP! Cabrio retractable roof and takes personalisation to a new level.

Significant demand for the 108 will come via the brand's unique Just Add Fuel initiative (JAF), the three-year low-APR personal lease which rolls all the customer's monthly costs into one easy payment. JAF includes insurance, road tax, warranty, servicing and roadside assistance.

Industry experts also believe the 108 will hold its value exceptionally well, with CAP Monitor releasing a three years/30,000 miles prediction that's up 42% on the outgoing Peugeot 107. The result is highly competitive customer pricing. A Peugeot 108 Access three-door costs just £89 a month – almost £20 less than the equivalent 107.

Demand for the critically acclaimed Peugeot 208 shows no sign of slowing. With YTD sales of more than 10,000 units, it's currently the 5th best-selling retail car in the UK and ahead of some very reputable competition.

Proving particularly popular is the 208 Style, a high-specification special edition which includes desirable standard equipment such as satellite navigation, Cielo panoramic glass roof and rear parking sensors. It's available for only £169 per month. For performance car fans, there's the Peugeot 208 GTi, available on JAF for only £259 per month.

The versatile Peugeot 2008 offers an attractive combination of high specification, low Recommended Retail Price and competitive 5.9% APR finance packages. As an extra incentive for 64-plate customers, there is a £500 deposit contribution from Peugeot on Active trim level models and £650 on Allure and Feline.

The same APR and Deposit Contribution from Peugeot is also available on the Peugeot 308 and 308 SW. Demand has been strong for both models, leading to a 30% YTD increase in retail sales. The 308 boasts class-leading engines, with CO2 emissions as low as 85g/km and fuel economy of up to 88mpg, giving it considerable appeal in the highly competitive company car segment.

Neil Moscrop, Director of Sales, Peugeot UK, commented: "In a retail market that is up almost 14%, our result is very impressive and we're delighted by it. We're looking to continue our retail growth in September and our strategy for retail sales is very simple. We have very competitive list prices that are lower than the sector average for each of our models. We also have a higher specification than the sector average and we try to be transparent in the way we treat our customers."

For more information on all of Peugeot's summer offers and Just Add Fuel across the range, visit: peugeot.co.uk.