Discover the United States and Canada on a guided bus tour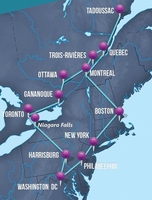 Travel wholesaler Tourico Holidays announces three new escorted tour itineraries to go on sale August 1, 2014. With departures starting in 2015, these itineraries cover exciting destinations in the United States and Canada: the Western Wonder Tour, the Discover the New World Tour, and the Big Cities and Waterfalls Triangle Tour. The tours are scheduled to take place on select dates between May and October 2015.

Guests can expect to travel comfortably in a modern deluxe motor coach and stay overnight in 3-, or 4-star hotels, including breakfast. Tourico Holidays has made comfort a main priority for each of these tours. For instance, guests won't have to struggle with their luggage while on the road; a baggage handling service will take care of transferring suitcases and bags between the motor coach and hotel rooms every day. The tour price also includes all visits and excursions mentioned in the respective tours.

Each tour will be accompanied by a qualified guide who is an expert on each destination and always available for questions and suggestions. Depending on the tour and date, tour guides will also speak German, French, Spanish, Portuguese, Italian, and Dutch in addition to English.

"Clients today want more than a good time, they want a lasting memory. We have included extra items into our programs that will give the guest a truly memorable and rewarding trip," states Michael Gough, Director of Escorted & Tour Series. "Escorted tours are still incredibly popular among international clientele that wasn't to discover these two great and vast nations."

The Western Wonder Tour focuses on the spectacular national parks of the Southwest United States, the panoramic California coastline and the two great cities of the west San Francisco and Los Angeles. More highlights include the Grand Canyon, Monument Valley, Bryce Canyon, Zion Canyon, Death Valley and Yosemite National Parks and their mystifying beauty and grandeur.

The Discover the New World Tour takes one back in time to the early settlement of the Americas. This is a cultural tour that embodies great cities and amazing nature. Visit the bustling cities of New York, Washington, DC, Boston, Montreal, Quebec city, Ottawa, and Toronto.

The Big Cities and Waterfalls Triangle Tour lasts 8 days/7 nights, begins in New York, and covers 8 different attractions. Tour highlights include, among other things, New York, Pocono Mountains, Toronto, Niagara Falls, Harrisburg, Washington D.C., and Philadelphia.

To learn more or book, contact your Tourico Holidays representative or visit touricoholidays.com.