Lincoln venue set for re-launch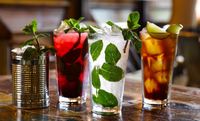 Revolution Lincoln is the latest Revolution venue to receive a six figure investment to fund a complete renovation. The transformation aims to heighten the bar's presence in the city as the leader in premium drinking and dining venues.
Located on Park Street in Lincoln's buzzing centre, the new-look bar will be kitted out with a central open-plan lounge and dining space - the perfect spot for all-day dining in the city. The venue will also boast new party booths and a private events space to the rear of the venue, all with hostess table service, designed with corporate events and personal celebrations in mind. The combination of plush surroundings and improved service, day and night, will cement Revolution Lincoln as the number one destination for long lunches, after work cocktails and late night fun.
Reopening at 5pm on Saturday 9th August after a week-long closure, the impressive new-look bar will begin the celebrations at 5pm with a special event which will include canapés, cocktails, live music, DJs and entertainment. Showcasing Revolution's largest ever cocktail menu to date, expert mixologists will also invite guests to take part in their own mini-cocktail making master-class.
Samina, the bar's general manager, said: "We are looking forward to welcoming back existing customers to celebrate the new-look venue, and we hope the changes we have made will also encourage new custom. We have received an extensive investment which is really exciting for us, and will be really evident when you see the finished 'product'."