The perfect drive for girls - and boys - about town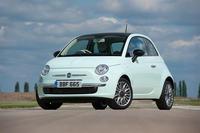 Europcar, car hire services in Europe, continues to invest in the quality of its fleet with the addition of hot favourite for city hipsters, the Fiat 500.
The Fiat 500 is the ultimate in city chic, perfect for young professionals and the stylish girl – or boy - about town. The latest models will include 1.2 petrol engines packed with the latest safety advances, designed to help drivers enjoy the journey. The interior offers comfort and retro styling, with touches of chrome and leather for added luxury, whilst the carefully designed suspension ensures a smooth ride.
Commenting on the addition of the Fiat 500 to the Europcar fleet, Ken McCall, Managing Director, Europcar UK Group, said: "The Fiat 500 is sure to be a very popular addition for our customers, giving them even more choice. It's a car that's become an instant contemporary classic and we expect it to suit anyone on a city break, keen to turn heads!"