Maggie's Retro Funfair travels to Chelsea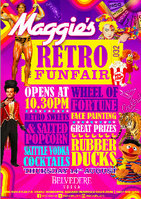 To get you in the mood for the final fun-filled bank holiday of the year, Maggie's will be starting the celebrations a week early, on Thursday 14th August at 10.30pm with a full on Retro Funfair.
Guests that enter through the funfair doors will descend into a crazy and colorful, carnival themed clubland. Expect retro sweets galore, bags of popcorn, face painting and a whole array of kitsch cuddly toys. Then, for those feeling extra lucky on the night, why not try your hand at the Maggie's Magical wheel of fortune, or a spot of rubber duckie fishing.
For the ultimate sugar high, a selection of limited edition Belvedere skittles vodka cocktails will also be available on the night, providing all party-goers with the perfect energy boost before they throw some circus style shapes on the dance floor.
Maggie's is named after 1980s Prime-Minister-turned-icon Maggie Thatcher, club-goers can hear her famous speeches playing in the loos, while Thatcher memorabilia vies for space on the walls along with other iconic 80s images and paraphernalia. The music is a mixture of classics from the 1980s and modern pop, with cocktails ranging from Pina Coladas and Daiquiris to the unforgettable Babycham.
Maggie's is owned and operated by The Inception Group whose founders Charlie Gilkes and Duncan Stirling have also created Chelsea speakeasy Barts, Bunga Bunga, an Englishman's Italian, Bar, Pizzeria and Karaoke venue, which achieved widespread acclaim. Mr Fogg's, a Mayfair bar modeled on the home of Jules Verne's most famous adventurer, Phileas Fogg and Disco, an underground boîte inspired by the 1970s Manhattan disco movement. This summer they just launched Cocobananas, a Brazilian beach party themed nightclub, and this autumn, will soon launch, Beaver Lodge, a cabin bar and dance saloon based on the winter cowboy log cabins found in Wyoming.
So for the retro ride of your life, hop on the carousel to Maggie's
Maggie's
Thursday 14th August 2014
10.30pm – late
329 Fulham Road, London, SW10 9QL
W: maggies-club.com