Cornwall braced for 100,000 visitors to its mighty Falmouth Tall Ships Regatta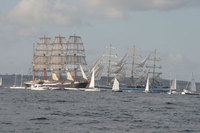 More than 100,000 friendly invaders will be transported back in time to the Great Days of Sail at the end of the month as an ancient Cornish port hosts one of this year's world-great maritime events – the Falmouth to Royal Greenwich Tall Ships Regatta.
From 28th to 31st August 2014, the historic town of Falmouth in Cornwall is set to host a nautical epic, welcoming nearly 50 ships, including 12 of the magnificent square-rigged Tall Ships, from nations including Spain, Holland, Portugal, Poland and Russia. The event will make maritime history as for the first time ever an internationally renowned Tall Ships Race will be taking place solely in English waters.
Falmouth is flying the flag in celebration with four days of colourful entertainment encompassing a whole programme of shore-side activities. For the first three days, the ships will be open to the public for a unique opportunity to explore on deck and learn about life on board these giants of the sea where fortunes were won and lost. Visitors can expect a swathe of swash-buckling pirates marauding and seasoned sailors dancing the hornpipe in the streets. In addition, Henry VIII's historic Pendennis Castle will reverberate to the boom of mock-cannon fire in retort to Tall Ship Mercedes, which will be heard throughout the town and harbour.
Throughout the Regatta there will be a wide range of live music, from an acoustic stage for local talent, to live bands and shanty groups, including the much-loved Fisherman's Friends whose authentic sea shanties will rouse the spirits of any salty sea dogs. On Friday over 300 crew members will be transferring their competitive spirit from the sea to Gyllyngvase Beach for an entertaining day of inter-ship sports challenges including the traditional tug of war. In the evening visitors can marvel at the crew decked out in all their finery, marching through the town in the traditional crew parade. On Saturday, the skies above Falmouth will be lit up in a farewell celebration before the vessels slip their moorings on Sunday and head out into Falmouth Bay for a truly spectacular Parade of Sail, with a huge spectator fleet turning out to send them on their way.
Sam Groom, Event Manager, Cornwall Development Company, said: "Falmouth is no stranger to receiving these giants of the sea, having last hosted the Funchal 500 Tall Ships Regatta in 2008. Alongside the many thousands of visitors who came out to witness these magnificent vessels setting sail from Falmouth Harbour in 2008, a huge spectator fleet graced Falmouth Bay in a show of true Cornish spirit, as yachts, yawls, luggers, pilot gigs and even dinghies and canoes took to the water to wish the ships a fond farewell on the first leg of the Race. Those who saw this spectacular sight will know just why we're so excited about welcoming ships and visitors alike for this year's festival."
The Falmouth Tall Ships Regatta starts on Thursday 28th August with three days of celebrations taking place in the host port of Falmouth before the Race gets underway from 31stAugust to 3rd September 2014. To keep up to date with all the latest on the Falmouth to Royal Greenwich Tall Ships Regatta see falmouthtallships.co.uk, join us on Facebook 'Tall Ships Falmouth 2014' , follow us on Twitter @tallships_2014 #tallships or follow lovefalmouth on Instagram.