Butler's Wharf Blackout at D&D London's iconic riverside restaurants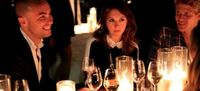 This September, D&D London is delighted to announce that they will once again be taking part in the Totally Thames festival. Visitors to its collective of riverside restaurants at Butler's Wharf – Le Pont de la Tour, Cantina del Ponte, Blueprint Café and The Butlers Wharf Chop House will have the opportunity to enjoy a candlelit meal and experience the unspoilt beauty of the river in darkness.
During the month of the festival (1st-28th September), each restaurant will host a 'Blackout' dinner, taking turns to celebrate the history and beauty of the Thames with a week-long candlelit dining experience. Featuring set price menus, each restaurant will offer a Totally Thames inspires dish showcasing some of London's best seasonal and local produce.
The first week of dinners will take place at Le Pont de la Tour (1st-7th September), where a banquet dinner by candlelight will be available on the terrace and in the Bar & Grill, offering a three course menu with drinks. As part of their set menu, Le Pont de la Tour will be serving a bouillabaisse featuring locally-sourced crayfish from Windsor and silver mullet from the mouth of the Thames. The Butlers Wharf Chop House will host dinners during the following week (8th-14th September) and its set menu will include beef wellington, made with meat sourced from Foulness Island by The Rare Breed Meat Company.
The next week of dinners (15th–21st September) will take place at Cantina del Ponte, which will be hosting The Sopranos-themed candlelit dinners, with a three-course menu and a drink. Cantina will be using flour from Doves Farm to create its pappardelle, which will be served with a veal ragout and white truffle sauce.
Blueprint Café will host the final week of Blackout (22nd-28th September) ensuring that the month of festivities goes out with a bang, hosting a series of 1920s Prohibition-era candlelit evenings. There will be live music, Blueprint Café signature cocktails on arrival and a three-course sharing menu including a new dish 'Dining on Bermondsey Beach', made with H Forman & Son smoked salmon, winkles and edible sand.
Prices and menus vary depending on location. To book or for further information on the Butler's Wharf Blackout visit bwblackout.com.