BBR 'Super 200' upgrade for 2005-2014 Mazda MX-5 NC 2.0i models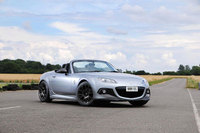 Legendary performance tuner BBR has announced an exciting engine tuning package for all 2005 onwards 2.0-litre Mazda MX-5 Mk3 / 3.5 / 3.75 (NC) models. Designed to meet the demand for a value for money engine upgrade that delivers extra response, power, driveability and excitement, BBR has achieved power gains that were previously impossible using conventional normally aspirated tuning.

"BBR knows that the Mazda MX-5 owners community is a broad church and not everyone wanted the supercar style performance of our highly successful turbocharged upgrades," says BBR-GTI's Neil McKay. "Therefore we decided to develop a package that built upon our entry level Super 175 and 180 upgrades by incorporating exclusive BBR hardware and further electronic development to deliver the first genuine 200 bhp normally aspirated conversion to an eager Mazda performance aftermarket, whilst being designed for everyday use and offering exceptional value for money," he continues.

The BBR 'Super 200' upgrade for the 2.0i Mazda Mk3 / 3.5 and 3.75 MX-5 (NC) models consists of the following components:-
High flow BBR panel air filter
BBR stainless steel 4 into 1 exhaust manifold
BBR high performance intake and exhaust camshafts
BBR 3.5 inch diameter branded tailpipes with stainless steel clamps
BBR ECU remap
BBR badges for front wings and bootlid

In-house dyno testing has revealed that while other high profile new car packages fall considerably short of their 200 bhp claims, the BBR Super 200 upgrade is dyno proven to boost peak power to a genuine 201 bhp at 7450 rpm, a remarkable tested gain of 43 bhp, resulting in over 180 bhp at the rear wheels.

However, the Super 200 kit's headline numbers only tell half of the story of the appeal of the new BBR package, because the spread of power is equally important. As a consequence diligent development by BBR has resulted in a pair of exclusive camshaft profiles with unique lift and timing specifications. These camshafts profiles are the result of extensive testing and combine with BBR's 4-1 exhaust manifold plus extensive engine management recalibration create a package that delivers strong gains from just 3000 rpm upwards – standard power output is exceeded at every point in the rev range, making the Super 200 upgrade both a user-friendly and exciting prospect.

Similarly BBR has placed great emphasis on extracting more torque from the MX-5's 2.0-litre, 16-valve powerplant to ensure that driveability and throttle response are superior to the stock car in all driving conditions. Highlighting the flexible performance of the upgrade, the BBR Super 200 equipped 2.0i MX-5 produces 166 lb.ft of torque (19 lb.ft more than the original,) with the peak figure arriving at just 4000 rpm, some 1100 rpm lower than the standard car.

Mindful of both costs and occupant comfort for high speed, long distance driving, the standard exhaust centre section, catalytic converter and rear silencer are retained with the BBR Super 200 upgrade, but the package includes a set of 3.5 inch branded stainless steel tailpipe trims which are adjustable to accommodate different bumper options on Mk3 / 3.5 / 3.75 models. In addition, exclusive yet subtle BBR wing and bootlid badging is included in the Super 200 upgrade.

Careful development by BBR has ensured that the Super 200 package is fully UK MOT emissions compliant and will run on either 98 or 95 octane fuel, with all the existing Mazda electronic fail safe systems untouched and fully functioning on converted cars.

On the road the extra torque, power and throttle response from the BBR Super 200 combine to produce an upgraded Mazda MX-5 which feels much quicker and far more willing, eager and exciting to drive than ever before – whatever the traffic, weather or road conditions.

Priced at just £2195.00 fully installed on a drive-in, drive-out basis, the BBR Super 200 package is perfect for 2.0i MX-5 owners desiring a quality upgrade backed by the track record and experience of the leading Mazda performance specialist. In addition, the BBR Super 200 conversion will also be available via a select number of Mazda UK dealers.

A DIY version of the BBR Super 200 package is also available priced at £1695.00.