Embrace Mauritian tradition with Veranda Resorts' cultural programme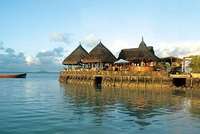 Veranda Resorts in Mauritius is introducing a brand new cultural programme with the aim of introducing guests to Mauritian heritage and creating a unique travel experience, beyond just sea and sand that Mauritius is normally synonymous with.
Hotel guests staying at one of the four Veranda properties – Veranda Grand Baie, Veranda Pointe aux Biches, Veranda Paul & Virginie and Veranda Palmar Beach – will get the opportunity to immerse themselves in the history and culture of this fascinating island. Activities include:
Guided bike tour/walking tour around local villages in the north
Market tour
Creole cooking class
Artisanal fishing
Rum tasting experience
Sega dance lesson
Mauritian instrument initiation
Guests will have the option of taking either a walking tour or bike tour of villages in the north, allowing them to discover the vivid local life of this part of Mauritius. One route includes a visit to the small Indian-influenced village of Goodlands, where a colourful Tamil temple impressively stands and shops are scattered along the roadsides, where guests can purchase authentic handmade gifts. Another route takes in Triolet, the island's longest village near the north-western coast, set amidst green sugarcane fields. Guests will have an experienced local guide who will offer a wealth of historical knowledge and insight into village life.
Culinary aspects of the programme include the opportunity to join a Mauritian chef in the kitchen, who will offer insight into typical ingredients and home-grown recipes, and guests will learn how to create traditional Creole cuisine. Additionally, guests can take a fishing trip with a local fisherman and learn local fishing techniques, catching typical coral fish such as 'capitaine' or 'vieille', and bring back their catch for a lively beach BBQ.
With its abundance of sugar cane fields, the island is renowned for its rum and so rum enthusiasts can try their hand at infusing the spirit, as well as tasting the different flavours on offer such as tamarin, litchis and coconut.
Another highlight of the programme is the Sega dance lesson. Steeped in history, this traditional Mauritian dance expresses freedom with its rhythmic beats and colourful creole lyrics. An initiation to Mauritian instruments such as the ravanne, djembé and maravanne will also be available.
Veranda Resorts' CEO, Francois Eynaud says: 'Our new cultural programme will provide our guests with a deeper connection to our land through a schedule of hands-on activities and tours. I believe that once people have had the opportunity to learn more about the history, people and landscape of this special island, they will return home with a better understanding and complete appreciation of Mauritius.'
Veranda Resorts comprises of four charming hotels– Veranda Grand Baie, Veranda Pointe aux Biches, Veranda Paul & Virginie and Veranda Palmar Beach - spread across the north of the island, ideal for families, groups and couples who want to experience authentic Mauritius.
Seven nights' B&B starts from £558 per room (two sharing) including some cultural programme events. For more information on Veranda Resorts visit veranda-resorts.com/en/