Popularity of poker prompts Nottingham venue to play its cards right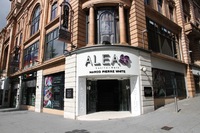 Following the success of one of the UK's most recognisable female TV presenters and journalists in an international poker tournament, Nottingham's leading entertainment venue is launching a new poker room that will open up the game to those wanting to learn more about how to play.
Victoria Coren Mitchell, who presents BBC 4's Only Connect quiz show and makes regular appearances on Have I Got News For You, scooped nearly £400,000 in a tournament held in Italy earlier in the year and has prompted a whole new raft of players to take up the game.
Bosses at Alea on Upper Parliament Street are now hoping to attract new players in a brand new designated poker room where newcomers to the game will be able to learn the rules of the various types of poker including Hold Em, Omaha, Dealer's Choice and Three Card Poker.
The Alea Poker Room, in association with WSOP will launch on Friday 22 August with a £6000 free-roll tournament.
Mark Hands, venue director at Alea is looking forward to welcoming new players to the venue who will see why the venue is regarded as being one of the city's best night spots for entertainment, live music and dining out.
Mark said: "We've already seen an increase in the number of people asking about learning to play poker following the win by Victoria Coren Mitchell earlier in the year.
"Her victory has massively broken down the barriers and perception of what poker is all about which was wrongly associated with seedy clubs and crooks!
"This couldn't be further from the truth and we can't wait to get the new room open so that more people can enjoy this great game in a safe and friendly atmosphere."
The new room is expected to open on Friday 22 August and will run games and lessons for newcomers as well as tournaments for those with a little more experience.
Mark added: "For most, playing poker is all about fun and you don't have to be a full-time professional or maths wizard to be in with a chance of winning.
"The game is all about skill, patience and making decisions. It is also a very wide-ranging game, for men, women, young and old and anyone who wants to give it a go will be very welcome here.
"We've already seen the evidence of poker becoming more popular following this big win by one of the country's best known female TV presenters and can see it enjoying a bit of an increase in popularity over the coming years."