Chargemaster continues to offer free domestic charging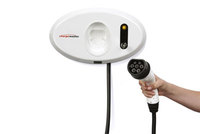 Chargemaster, the UK's largest manufacturer of electric vehicle charging points has announced that it will continue to offer its popular Homecharge i 3kW charging point installed totally free of charge* with support from the new £9m government scheme (the Electric Vehicle Homecharge Scheme or EVHS).

In order to ensure all buyers and users of EVs get the best charging experience at home and across the national POLAR charging network, Chargemaster will not only continue to provide a free 3kW Homecharge Unit, but will also offer free POLAR membership for six months with any installation. Customers will also receive free online access to usage data**. The POLAR Network gives electric vehicle users access to thousands of charging points across the country, all of which can be accessed with a single card. The membership charge is usually £20 per year.

The new government backed scheme requires recipients to own or have on order a plug-in vehicle, and runs until 31st March 2015, or until the total allocated funding has been spent. The government has announced that £9m will be allocated to support domestic charging points between 1st September 2014 and 31st March 2015.

David Martell, Chargemaster's founder and chief executive confirmed its ongoing support for the UK government initiative: "We are delighted to offer a free unit under the new scheme with support from the government. Chargemaster is not only subsidising the cost of the domestic unit, but also giving electric vehicle buyers greater flexibility to charge away from home with six months' free access to the national POLAR Network. Being able to see one's electricity usage at home and in addition across the POLAR network is all part of the high level of service that Chargemaster offers to support EV car buyers"

"The ability for electric car drivers to have easy access to charging at home and across the UK is key to the reduction of carbon emissions nationally, as well as improving air quality, particularly in urban areas, so we are delighted to be doing our bit."

With many new electric models now launched, or about to come on the market, the EV market in the UK is buoyant. Manufacturers offering, or about to offer plug-in vehicles in the UK now include Audi, BMW, Citroën, Ford, Mercedes-Benz, Mitsubishi, Nissan, Peugeot, Porsche, Renault, Smart, Tesla, Toyota, Vauxhall, Volkswagen and Volvo.

It is widely forecast that between five and ten percent of cars sold in the UK will be plug-in or fully electric by 2020, and indications suggest the market is on track to meet such levels.

The Chargemaster Homecharge unit is the most popular domestic charging unit in Europe and charges at up to three times faster than a standard 13-amp domestic socket. It is also far safer than using a 13-amp domestic supply, being wired on a dedicated electrical circuit in accordance with stringent industry safety standards. Over 20,000 Homecharge units have been supplied in the UK and throughout nine other European countries.
* 3kW Homecharge units are installed free in accordance with OLEV householder and owner requirements and subject to satisfactory survey. The unit can be specified with either Type 1 J1722 or Type 2 connector as required with a 4.5-metre tethered cable or a universal Type 2 socket. 7kW units can be installed at an upgrade cost of just £95. See chargemasterplc.com for full terms and conditions.

** Free membership of POLAR and provision of usage data requires a standing order form to be completed and subscription charges will apply from six months from the date of installation. Usage charges will apply immediately on some charge points from date of issue of card. Sites incurring usage charges are shown on chargemasterplc.com.