Tesla expands Supercharger network in the UK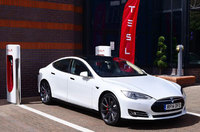 Tesla have opened new Supercharger locations in London and Birmingham, part of a rapid network expansion that will soon allow UK Model S owners to drive anywhere in the country and charge for free, for life.

The first new Supercharging site is located at Hyatt Regency London – The Churchill, on Portman Square. The Supercharger can be accessed in the hotel car park, which will be free to Model S owners for one hour while charging. With valet parking available, it is the first Supercharger in central London and represents the first step in Tesla's inner-city charging strategy for the UK. Such centrally located Superchargers will allow customers who don't have access to off-street parking or personal garages to easily find charging options close to home or work.

The second Supercharging site is at the Hyatt Regency Birmingham, on Bridge Street. As well as allowing Model S owners to charge upon arrival in Birmingham, the site enables electric travel to the Midlands and beyond.

"This Birmingham location signifies our first move out of London in recognition of the fantastic support in the area," said Georg Ell, Tesla's UK Country Director. "We will open a store in coming months offer Midlands-based Model S owners a convenient local service.

"Both Hyatt Regency hotels offer a great base for Model S owners whilst charging. With everything from bars and restaurants through to business centres and gym facilities, there is plenty to keep you occupied for your 30 minute charge."

These new Supercharger locations not only energise an important route between the capital and the UK's second city, but they also enable Model S drivers to travel long distances from the Midlands to Manchester and London, and across to France, Germany, and other European countries for free.

World's Largest Fast-Charging Network

A Supercharger replenishes half a charge in about 20 minutes. Supercharger sites are strategically placed along well-travelled routes to allow Model S owners to drive long distances with minimal stops. They are located near amenities like motorway services, restaurants, cafes and shopping centres so drivers can stop for a quick meal and have their Model S charged by the time they're done.

Tesla has energised 168 Superchargers worldwide, making it both the largest and the fastest-growing fast-charging network in the world.