Magaluf headlines won't impact Mallorca's luxury yacht industry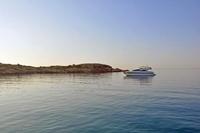 Whilst Magaluf has become notorious this summer, 25 year-established yacht company, easyboats, says it will have zero impact on Mallorca's luxury yacht industry. The Port Andratx-based Company believes 2014 will be a good year.
Lorenzo Vila, Director of easyboats, founded in Mallorca in 1989, comments, "Our clients are of course aware of the Magaluf situation, and feel sad as they know the 'real' Mallorca as well as we do, but the headlines are not putting people off. If anything, in spite of its location, Nikki Beach is enjoying far greater success than many predicted when it opened in 2012, with a constant stream of super- and megayachts from all over the Med paying the venue a visit for glamorous dining and partying."
Indeed, 2014 is shaping up to be a good year for easyboats. Lorenzo continues, "We have already closed two significant sales, a Riva and a Mangusta, to serious high net worth clients, and added the Riva to our charter portfolio – the only Riva Rivale available in Mallorca. Additional deals are in the pipeline. Most enquiries are coming from those who've never previously owned a boat and always chartered. Unsatisfactory charter experiences, not with easyboats I hasten to add, have persuaded them into boat ownership to enjoy increased freedom and comfort without restrictions on where and when to go."
As the first and only motoryacht charter company in Mallorca 25 years ago, easyboats have certainly seen the charter industry at its best and at its worst. "When we started, the charter business was very authentic, ethical, and supply versus demand was much more controlled," says Lorenzo. "However, gradually the market became saturated with too many boats and too many charter companies, many focussing on the lowest price and consequently low quality – including plenty of boats that were not charter-legal. Thankfully the worst offenders are now out of business and we're back to a more personal, honest, service-orientated environment – how easyboats has operated since day one."
"Much has changed in Mallorca over recent years," concludes Lorenzo. "We have new marinas such as Philippe-Starck's Port Adriano inaugurated in 2012, a much-improved Palma International Boat Show, with a Superyacht Show added in 2013, attracting many thousands of international visitors, favourable news on the previously-restrictive matriculation tax, and many new source markets coming to the table such as Russia and the Far East. We're excited about our next 25 years at the heart of Mallorca's yachting business."
For further information on yacht charter, sales and management, visit easyboats.com.