Volvo launches gas-powered truck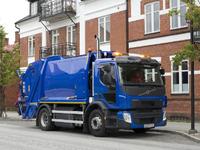 Volvo Trucks is expanding its model range in Europe with a new version of the Volvo FE running entirely on methane gas. The Volvo FE CNG (Compressed Natural Gas) has been primarily developed for operations involving short driving cycles with repeated stop:starts such as refuse collection and local distribution. It is equipped with a new 9-litre Euro-6 gas-powered engine featuring spark plug technology and automatic transmission.
"With the Volvo FE CNG we can now offer companies that drive predominantly in urban environments a truck with a far lower environmental impact. Many cities the world over are looking for alternatives to diesel-powered trucks. In the field of refuse handling, for example, renewable fuels are often a requirement for securing a contract," says Christina Eriksson, Business Manager Alternative Drivelines at Volvo Trucks.
Methane gas is odourless when combusted and it contains very low levels of harmful particles. If the methane is a biogas, that is to say based on organic materials, emissions of carbon dioxide are up to 70 per cent lower than those of a diesel truck.
The Volvo FE CNG is powered by an all-new 9-litre Euro-6 engine featuring spark plug technology that produces 320 hp and 1356 Nm of torque.
"Spark plug technology is particularly suitable for driving cycles where the truck covers short distances with a lot of start-stop traffic," explains Christina Eriksson.
Thanks to its six-speed fully-automatic transmission, the truck retains the same excellent driveability and productivity as the conventional Volvo FE. The automatic transmission also gives faster driveline response.
"Methane gas is the fuel that will become a sustainable alternative to diesel in the long-term. Right now the focus is on working together with the various public authorities and private corporations to draw up the relevant rules and create the right conditions for positive development," says Lars Mårtensson, Environmental Director at Volvo Trucks.
Sales of the new Volvo FE CNG will start in Europe in August, with series production getting under way in early 2015.
John Comer, Product Manager for Volvo Trucks Great Britain & Ireland, adds "The new Volvo FE CNG is primarily aimed at centrally-operated municipal and refuse operators working from transfer stations where there is a renewable source of methane available."