EU city breaks where luxury costs less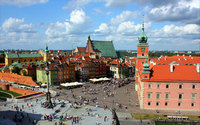 New research from travel search engine Kayak.co.uk, looks at the cost of five star hotel stays in different cities across the European Union; finding that five star digs come on a shoestring in Warsaw while luxury in London breaks the bank. Five star hotels in Warsaw cost on average £84 per night, compared to London where indulgence seekers have to splash out an average of £321 per night.
With more than 500,000 hotels available worldwide, the travel search engine has developed detailed research into the EU's five star hotel offerings.
Helping savvy, budget conscious travellers make smart booking decisions, Kayak.co.uk has revealed that the top ten cities in the EU offering the best value on luxury hotels are as follows:
Top 10 Cities For Affordable Luxury
Average price per night of a five star hotel
Warsaw, Poland £84
Thessaloniki, Greece £87
Bucharest, Romania £98
Athens, Greece £104
Lisbon, Portugal £113
Budapest, Hungary £114
Brussels, Belgium £122
Prague, Czech Republic £138
Berlin, Germany £145
Madrid, Spain £154
If money is no option then those looking for an extravagant stays in some of the most expensive cities in the EU should consider jetting off to the following:
10 Most Expensive Cities For Five Star Luxury
Average price per night of a five star hotel
London, United Kingdom £321
Florence, Italy £320
Paris, France £307
Milan, Italy £304
Nice, France £253
Rome, Italy £247
Munich, Germany £246
Edinburgh, United Kingdom £211
Amsterdam, Holland £208
Copenhagen, Denmark £191
Annie Wilson, UK Managing Director of Kayak commented "The star rating can be confusing as a universal standard, but the grey area is generally around the two to four star mark. When you get into the five star league the playing fields level out and it is expected that the hotel will offer a range luxury rooms and suites and facilities will include restaurants, bars, business facilities, a concierge service, swimming pools and a gym. At Kayak we champion smarter travelling and this research will help consumers understand where they can get more for their money when booking a five star experience."