Maggie's and MichaelJohn host 80s Big Hair Night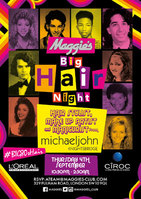 On Thursday 4th September, in the lead up to London Fashion Week, as the city begins to perfect their pout, Maggie's 80s club in Chelsea will be partnering with luxurious beauty institution, MichaelJohn, in Knightsbridge, to host an event that honours the ultimate 80s fashion statement, BIG Hair.
On arrival those whose hair is not already too big to fit through the door, will be whisked off to have either their hair, or make-up, (or why not both) done by an expert team of stylists at their various stations, courtesy of Michael John and L'Oreal.
Not wanting to waste the ultimate #ThrowbackThursday #selfie opportunity, guests will then be encouraged to tweet or instagram pictures of themselves and their #BIG80shair looks to @Maggies_club and @___MichaelJohn, to be in with the chance of wining a luxury goodie bag, jam packed with pampering delights.
For those that have really gone to town and can't see the UV menu through their own personal hairspray cloud, fear not, just ask one of bar staff for a CIROC Vodka special, guaranteed to make your hair stand on end even if the hairspray doesn't.
Maggie's is named after 1980s Prime-Minister-turned-icon Maggie Thatcher, club-goers can hear her famous speeches playing in the loos, while Thatcher memorabilia vies for space on the walls along with other iconic 80s images and paraphernalia. The music is a mixture of classics from the 1980s and modern pop, with cocktails ranging from Pina Coladas and Daiquiris to the unforgettable Babycham.
Maggie's is owned and operated by The Inception Group whose founders Charlie Gilkes and Duncan Stirling have also created Chelsea speakeasy Barts, Bunga Bunga, an Englishman's Italian, Bar, Pizzeria and Karaoke venue, which achieved widespread acclaim. Mr Fogg's, a Mayfair bar modeled on the home of Jules Verne's most famous adventurer, Phileas Fogg and Disco, an underground boîte inspired by the 1970s Manhattan disco movement. This summer they just launched Cocobananas, a Brazilian beach party themed nightclub, and this autumn, will soon launch, Beaver Lodge, a cabin bar and dance saloon based on the winter cowboy log cabins found in Wyoming.
#ThrowbackThursday at Maggie's, Go BIG or Go Home!
Maggie's
Thursday 4th September 2014
10.30pm - late
329 Fulham Road, London, SW10 9QL
W: maggies-club.com