Leaf peeping in Switzerland: Closer than New England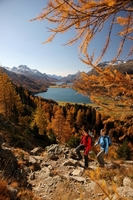 New England may have made a business out of its autumn foliage – there are websites and tour operators dedicated to watching the trees turn golden hues – but it's a long way for Europeans to go to simply admire leaves, which is why it's good to know it's not essential to cross the Atlantic to enjoy this annual phenomenon. Another possibility is the heavily wooded Upper Engadine Valley in south-east Switzerland, where Grand Hotel Kronenhof in Pontresina has created a "Golden Autumn Days" package.
Offered from 26 September to 20 October, the package includes dinner, bed and breakfast, complimentary use of the hotel's stunning spa facilities, a 10% discount on spa treatments and unlimited use of all the mountain railways in the Engadine/St Moritz area. Prices start from CHF 420 (approx £275) per night for two people sharing a beautiful double room; a minimum two-night stay is required. For those spending between three and five nights in the hotel, the room rate is CHF410 per night and for those staying six nights or more, the rate drops to CHF395 per night.
The Engadine, protected by high Alpine mountains on all sides, is famous for its sunny climate and beautiful landscapes (Engadine in the local Romantsch dialect means The Garden of the Inn River, so named because the valley is such a treasure trove of greenery), making it the perfect European destination to witness autumn colours set against clear blue skies.
Visits to the Engadine at this time of year are particularly popular among hikers and artists. Hikers will feel the need to trek up mountains, but they might also like to sample the benefits of barefoot trails in Celerina, a village close to Pontresina, while keen artists will want to capture the light in the valley, which is so magical it led the 19th century German philosopher Friedrich Nietzsche to believe that he had found "the cradle of all silver tones".
For more details and to book, visit the Grand Hotel Kronenhof website www.kronenhof.com.