TV chef at food fests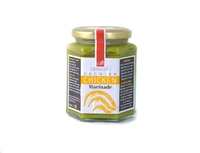 Visitors to Kent's food festivals this Autumn will have the opportunity to learn how TV chef Dev Biswal, patron of The Ambrette restaurants, creates his unique dishes, when he gives live cooking demos in Canterbury and Broadstairs.
Dev, whose third restaurant has been fully booked most days since it opened in Canterbury at the end of July, will be taking a stand for the first time at the Canterbury Food and Drink Festival, 26th to 28th September 2014. He will also be putting in his regular appearance at the Broadstairs Food Festival from 3rd to 5th October.
Visitors will also have the opportunity to buy Dev's own brand 'Biswal's Premier' marinades used in his restaurant kitchens in Canterbury, Margate and Rye. There are three marinades in the range – for chicken, lamb and fish.
The marinades have been introduced in response to customers asking the secret to The Ambrette's distinctive style and flavours, so they can try them at home. Unlike many Indian restaurants, The Ambrette does not serve curry. The dishes are only lightly spiced to enhance the natural flavours of the food.
Biswal is critical of "the fast-food mentality" of some Indian chefs "stuck in a 1940s time bubble", who prepare a single base sauce into which herbs and spices are added only at the last moment to order, and then fry meat in a sauce without giving the ingredients time to absorb their distinct flavours.
Marinating fish and meat is a typically eastern concept in home cooking. Conversely, Biswal also employs western and modern cooking styles, such as and poaching and sous vide techniques, in some of his cooking to create unique dishes.
"Marinating is not just about adding flavour," explains Biswal, "The natural acids in fruit juices or vinegar, break down meat fibres to give a wonderful tender texture."
According to Biswal, lamb should be marinated for at least 4 hours, whereas fish should marinade for the maximum of an hour. The 250ml jars contain instructions to apply at room temperature and leave to stand in the fridge.
Biswal's Premier Marinade for Lamb contains a unique blend of mustard oil, ginger, garlic, pickle, salt, garam masala, red chilli, turmeric, fenugreek, pineapple and coriander
The Premier Marinade for Chicken is a blend of fresh coriander, fresh mint, fresh ginger, fresh garlic, mustard oil, green chilli, roasted gram flour, salt, garam masala, turmeric, black salt and soft cheese. It is also ideal for use with pheasant or left over Christmas turkey.
The Premier Marinade for Fish, which can be used for white varieties or oily species such as mackerel or salmon, is comprised of a secret recipe of mustard oil, turmeric, coriander seeds, onion seeds, fennel seeds, cardamom seeds, fenugreek, lemon juice, salt, sugar, black pepper, asafoetida and curry leaves.
The 250ml jars, hexagonally-shaped for efficient storage, cost £3.95 and are sufficient for 4 servings and keep for 2-4 weeks once opened. Biswal's Premier Marinades are available direct from biswalfoods.com for delivery nationwide plus local farm shops and specialist retailers.
More information at theambrette.co.uk.