New series FM for car transporter applications announced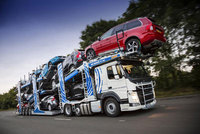 Volvo Trucks has announced that the new series, Euro 6-compliant FM, is now available fully configured for car transporter applications.
Specifications of the new Volvo FM car transporter, configured as a low height, sleeper cab 6x2 rigid, were revealed to an audience of automotive logistics operators on 28th August at Volvo's Warwick head office.
Volvo Trucks worked in partnership with specialist trailer manufacturers Transporter Engineering and Belle Rolfo, who built the innovative 11-car transporter that was demonstrated at the event on a new series Volvo FM chassis. Volvo Cars provided the vehicles for a loading and unloading demonstration of the new truck.
The Euro-6 Volvo FM was launched in 2013 and features a new chassis with the same suspensions as the FH.
The challenge in configuring the new series truck to be suitable for car transporter applications, was to keep the overall cab height from the ground under 2800mm, says Volvo Trucks' Field Sales Engineer, Duncan Seaman,
At 21450kg, Gross Vehicle Weight (GVW) of the Euro 6-compliant 6x2 FM remains the same as the Euro-5 model. Axle ratings are 9000kg for the front, 4500kg for the pusher and 11500kg for the drive axle.
Chassis space packaging for the Euro-6 FM car transporter has also been optimised. As a result, maximum fuel and AdBlue capacity are achieved.
The new chassis space packaging for the Euro-6 FM car transporter allows use of a 330 litre capacity fuel tank on the right side of the chassis, plus a left-hand side fuel tank of either 170 or 210 litres. Total fuel capacity has thus increased from 450 litres to potentially a maximum of 540 litres, while AdBlue capacity has also been increased by 4 litres from 60 to 64 litres.
A new enhanced pusher axle design provides better prop shaft clearance, with lighter construction. Finite element analysis of its components has allowed the design and use of more compact mounting brackets. No additional cross member is required. The new pusher axle design also uses the Volvo chassis hole pattern. Wheelbase of the new Euro-6 FM remains at 3900mm.
The new FM car transporter is available with the Euro-6 compliant D11K and D13K engines. While the 11-litre D11K is rated at 330, 370, 410 and 450hp, the 13-litre D13K is offered at 420, 460 and 500hp increments. Power and torque curves for the D13K 420hp and 460hp ratings have been stretched down by a further 100rpm, resulting in improved driveability and permitting a new, faster, rear axle ratio of 2.64:1.
The new FM car transporter's low height sleeper cab is characterised by its clean profile. All aerials and the Telematic Gateway (TGW) used for Dynafleet telematics, are now mounted on the cab's rear panel. TGW is standard on all road-going Euro-6 FMs.
There is an optional, dash-mounted, push-button controller for the I-Shift automated gearbox, although a traditional lever can still be specified. In conjunction with I-Shift, Volvo's I-See, which uses stored data from measured routes, can also be specified. I-See comes with an optional Long-Haul fuel package, clutchable compressor and larger alternator option to further aid fuel savings.
Volvo has a longhistory of engineering specialised car transporters which goes back to the 1960s and the F86. As John Comer, Product Manager at Volvo Trucks UK & Ireland says,"The Volvo F86, which was used to transport many cars of the period to the port, including Delorean's in Northern Ireland, was a very simple car transporter because of its compact cab size. Later, the FL10 proved to be a great car transporter too with its low roof and side mounted air intake. The FL10 was around at the start of the short:long concept, withVolvo specifically engineering a rigid rather than a tractor chassis for this application."
He continues, "The Volvo FM was introduced in 1998 and the car transporter concept has been further developed with the mid-lift and 9-tonne front axles, which were specified to cater for changes in the car market. Primarily, the growth of the SUV and cross over vehicle sectors, whose cars are heavier."
In conclusion, Duncan Seaman explains,"The new Euro-6 FM is highly-suitable for car transporter applications because of its compact cab, low chassis height, high front axle capacity of 9 tonnes, its additional 4.5 tonne axle, plus its 3900mm wheel base and new chassis space packaging, which allows room for good fuel and AdBlue capacity, in line with the larger Euro-6 exhaust."