Mini-V charity festival brings music and food to Bristol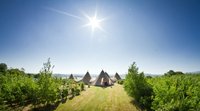 The team behind Mini-V Harvest Festival have announced the secret location for 'Bristol's best end-of-summer festival' in the stunning Chew Valley.

September 6 - 7 2014 will see the site of The Community Farm and neighbouring fields in Chew Magna (near Bristol) transformed into the food and music focused Mini-V harvest festival. With live music from dub pioneers Perch and Dubdadda of the Zion Train, afro-beat groovers Nubiyan Twist, Bristol's own talent: Cut Capers, Crinkle Cuts, the Bristol Afrobeat Project, Catlow Sykes and Hawes of Sheelanagig, DJ sessions from SoulTrain and ReggaeTrain, a one night takeover by GoodGroove Records, and a dedicated acoustic stage - there will be buckets of musical treats to pick from throughout the two day festivities.

There will also be workshops for the whole family. For the adults - life drawing and hula hoop classes, for the teenagers - DJ workshops from the Hive, a bird of prey demonstration, Mini-V t-shirt printing workshops and a shooting range. Cookery demonstrations will be provided by Michelin star chefs Josh Eggleton of the Pony and Trap and Jonray from Casamia, and a host of tasty local food and drink stalls will be available to choose from. The Community Farm will be running family farm-tours at the festival site, with a chance to learn more about organic farming and see the harvest.

Ending on a high there will be a giant bonfire on Sunday night, preceded with a fancy dress competition and procession with prizes, led by Keda Breeze and our circus performers. Festival-goers can bring their fancy dress with them or attend a costume making workshop on the day, followed by a photo booth opportunity hosted by AfterDark to capture the entries. There will be also be the opportunity to book a hot air balloon ride departing from the festival site on Sunday to take in views of the stunning Chew Valley and it's lakes.

The festival is held by Luke Hasell, in memory of his parents Martin & Sandra Hasell who once owned the land on which Mini-V takes place. Money raised will go toward the work of St Peters Hospice, Penny Brohn Cancer Care, Harvey Hext Appeal and the Good Will Cause. Since 2004 when the Martin Hasell Memorial Fund was set up an excess of £40,000 has been raised for various charities with yearly events.

Revealing the theme of the fancy dress parade "Get on our land", Luke Hasell, director of Mini-V festival and nominee for BBC Food and Farming's 2014 Outstanding Farmer of the Year award said, "The festival programme is packed full of amazing things to do for all the family. As we are inviting everyone to Chew Magna and onto the land, we have decided that the fancy dress theme should be 'get ON my land' - I can't wait to see animals, tractors, fruit and veg and a few surprises too wandering around on Sunday afternoon!"

Andy Dibben, Community Farm Manager comments, "We couldn't be more excited to have Mini-V Festival taking place on the Farm. The meaning of field to fork couldn't be more true with this harvest festival. What better place to dress up, eat some food from the fields you're stood in, and have a dance to some great Bristol bands? See you there!"

Mini-V is hosted by Ti-pi events in association with The Story Organic Meat and Eat Drink Bristol Fashion. Tickets can be purchased as day or weekend tickets, with an option of renting a bell-tent sleeping 2-4 for an extra fee. Children under 7 go free.