Hotel to fill cases with Beatrix Potter mixtures for National Cupcake Week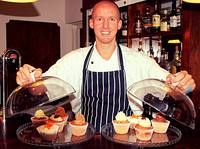 Beatrix Potter cupcakes, inspired by the favourite food treats of her characters, will be popping up in the South Lakes during National Cupcake Week and filling lots of cases.
At the former home of the children's author, chefs in the 2AA red rosette kitchen of the Lindeth Howe Country House Hotel in Bowness have devised fantastic flavours for little cakey treats that will make the mouth water. All are taken from the hints given in the pages of Miss Potter's Tales, two of which she penned and illustrated from the property.
Cupcakes available from September 15-21, to celebrate National Cupcake Week, will be themed to suit the palates of Peter Rabbit (carrot cake), Squirrel Nutkin (hazelnut), Mrs Tittlemouse (cherry and almond) and Pigling Bland (chocolate and peppermint).
As The Tale of Pigling Bland was written at Lindeth Howe, the hotel expects the chocolate and peppermint cupcakes to be its best seller, particularly amongst departing guests wishing to pop some in their case. The little pig, Pigling Bland, was rather fond of peppermints and was sent off to market with eight conversation peppermints wrapped in paper that carried 'appropriate moral sentiments'.
All four flavours will be sold in the hotel and on the menu for residents and non-residents dropping in for coffee or afternoon tea. They will also be on offer as a take-out treat, for anyone wishing to order and pick them up to take home. The cupcakes will cost £1.75 each.
Lindeth Howe's Clare Bateman says: "We think our cupcake treats will prove highly popular during National Cupcake Week and expect to see many parents ordering some to collect and take home for tea. They will also bring a new dimension to our afternoon teas on the terrace for those wishing to drop by, treat themselves and take in views of Windermere while devouring them. We shall most certainly be filling many cases during the week."
Cupcakes can be ordered from September 15-21 by calling 015394 45759.