Calling all cyclists - Holiday ideas in the Dolomites & Tuscany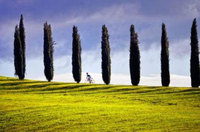 If you've been inspired by Sir Bradley Wiggins, bicycle rides out in the open countryside over the summer or the Tour de France, the cycling holidays offered by Adler Resorts are made for you. Highlights include autumn mountain biking breaks in the Dolomites and a unique road racing opportunity in Tuscany in November.
The Dolomites – a registered UNESCO World Heritage Site recognised for its outstanding natural beauty – offer mountain bikers an extensive and visually stunning natural landscape to explore, plus cosy mountain huts in which to re-fuel on a delicious bowl of Italian pasta before getting back in the saddle with renewed energy. Thirty well-signposted mountain bike trails, measuring almost 1000 kilometres in total and varying in degrees of difficulty, are located at between 700 and 2,450 metres above sea level. An added bonus of autumn biking holidays is the chance to view the stunning blaze of the fall leaves.
Guests of the Adler Dolomiti can use the hotel's mountain bikes and – for those who prefer an easier ride – electric cycles for free, in addition to which the hotel has an in-house mountain bike guide, Verena, who leads daily outings and is happy to provide suggestions to guests who wish to make their own way through the mountains.
Returning to the hotel after a hard day's exertions, guests can enjoy complimentary use of the Adler Dolomiti's 9000 square metres of private parkland and the largest wellness facility in the Dolomites, with three distinct zones: Dolasilla for beauty & vitality, Aguana where the pools, including thermals, are located, and AdlerFit with a full programme of activities (yoga and meditation might appeal after all the thrills and spills of the mountain biking).
Adler Dolomiti's Bike & Wellness PLUS package includes one 45-minute sports massage and a relaxing session in the hotel's salt grotto. Valid till mid-November, prices (per person sharing a double room on a half-board basis) start from Euros 540 (approx £430) for four nights to Euros 942 (approx £750) for a week. Go before 21 September and prices (per person sharing a double room on a half-board basis) start from Euros 711 (approx £565) for four nights but also include a lift pass that allows access to all the mountain bike trails of the Val Gardena Ronda area.
In southern Tuscany, Val d'Orcia (another UNESCO World Heritage Sites recognised for its outstanding natural beauty) provides visually stunning and ideal conditions for bike touring, thanks to its gentle rolling hills. Around the Adler Thermae in Bagno Vignoni, there are over 200 kilometres of hiking and cycling trails, as well as more than 1000 kilometres of GPS guided trails for mountain bikes, e-bikes and racing bikes. With the new ADLER THERMA app, riders can navigate safely and easily through the countryside, at the same time receiving lots of information about conditions, altitude, the length and duration of routes, and much more.
The hotel has mountain bikes and e-bikes available to guests on a complimentary basis, and up to four times per week a professional bike guide takes riders out into the picturesque landscape, revealing insider tips and hidden gems along the way.
Serious cyclists, however, will want to sign up for the "Road Bike week with professional bikers" package, when ex-professional cyclist and the current Team Sky Sports Director Dario Cioni will accompany guests on a daily ride through the hilly landscape of the southern Tuscany, regaling riders with anecdotes and sharing hot training tips usually reserved for Sir Bradley or Wiggo as he's affectionately known!
The "Road Bike week with professional bikers" package takes place from 16 to 23 November and costs from Euros 887 (approx £705) for five nights and from Euros 1387 (approx £1100) for the full week, per person sharing a double room on a half-board basis. The package also includes unlimited use of the hotel's thermal pools and all other spa facilities, ADLER FIT Fitness World (an area of 350 m² with innovative equipment, supervised programmes, mental training, Yoga, Pilates and water classes), a bathrobe and slipper set for the week, free internet access and free underground car parking.
For more information and to book, visit adler-resorts.com/en/.