Hyundai New Generation i20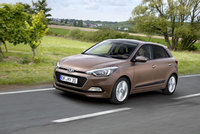 With the launch of its latest model, the New Generation i20, Hyundai Motor Europe is continuing its successful presence in the B-segment, highlighted by almost a million sales since 2002. The popularity of the original i20 has made it one of the company's best-selling cars in the region. The key aims of the new model are to open Hyundai Motor Europe to an even wider audience, further develop perceptions of the brand and confirm Hyundai's strategic focus on Europe.
The New Generation i20 has been designed and developed in Europe, and three key attributes in particular underline how it meets the needs of European consumers: class-leading interior space, high-technology and comfort-enhancing features, and clean, refined design.
Hyundai's third-generation B-segment vehicle highlights a significant step forward for the company since 2002, when Getz was first introduced to Europe. The New Generation i20 remains true to the principles of delivering value beyond expectations, exemplified by models including New Generation i10 and New ix35. The launch of this latest vehicle also means every Hyundai model in Europe has been renewed in the last five years.
Making its debut at the 2014 Paris Motor Show in October and entering production during the same month, the New Generation i20 will go on sale throughout Europe from November 2014.
Longer, lower and wider than the previous model, New Generation i20 was penned at Hyundai Motor's Design Centre Europe in Rüsselsheim, Germany. The new model's character is inspired by the company's Fluidic Sculpture design philosophy, with elegant lines and a sculptured profile giving it a bold and sophisticated appearance. On the New Generation i20, a Hyundai Motor's key design element hexagonal grille flows into stylish bi-function headlamps with LED daytime running lights.
Key styling cues are echoed inside the spacious cabin. Sitting on a new platform, the wheelbase has been extended by 45 millimetres to 2570 mm creating more space for occupants. Class-leading interior space – 1892 mm combined front and rear legroom – makes the New Generation i20 a true five-seater, while outstanding boot capacity of 326 litres heightens the vehicle's versatility.
Designed to transport the driver and passengers in great comfort, the cabin features extensive use of soft-touch materials, as well as subtle piano black inserts and chrome detailing, to create a modern and sophisticated interior package.
The vehicle has also been fitted with a number of new technologies that provide levels of comfort and convenience normally associated with large-vehicle segments. For example, the inclusion of front and rear parking assist, heated steering wheel, static bending headlamps and automatic defog system are firsts for a Hyundai B-segment vehicle. Additionally, the lane departure warning system is another innovative feature, normally found in higher segments. The unique-in-class panoramic sunroof, able to both tilt and fully open, enhances the comfort and the sense of space for occupants, filling the cabin with natural light and fresh air.
The New Generation i20's driving experience has been fine-tuned to ensure suitability for European roads following rigorous ride and handling testing in alpine mountain areas, hot summer evaluation in southern Europe and cold winter testing in Scandinavia. During testing, New Generation i20 was tested at altitudes as high as 2500 metres and subjected to temperatures ranging from +40 Celcius down to -35 Celcius. The extensive use of lightweight high-strength steel in the platform and bodyshell has yielded a reduction in core weight of the vehicle, as well as a significant improvement in torsional rigidity, reducing vibrations when on the move and aiding handling performance.
Hyundai Motor's confidence in its European build quality means every New Generation i20 comes with the company's industry-leading Five Year Unlimited Mileage Warranty, as standard. This industry-best support package also includes five years of roadside assistance and five years of vehicle health checks.
As a further demonstration of Hyundai's commitment to Europe, and underlining the fact that the car is a truly European vehicle, Hyundai has unified New Generation i20 production at its Turkish plant. 100% of New Generation i20 production will take place at the recently-expanded Hyundai Assan Otomotiv Sanayi (HAOS) plant in Izmit, Turkey.
The New Generation i20 is the third car to be launched as part of 'Product Momentum 2017', an initiative that will see Hyundai launch 22 new models and derivatives in Europe by 2017. New products and new technologies will further Hyundai's regionalisation strategy of designing, engineering and producing cars for Europe, in Europe.