New Action Cam Mini from Sony gives you a great new point of view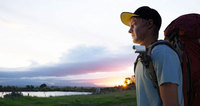 Sony's smallest ever Action Cam, the HDR-AZ1VR, brings you sensational Action Cam picture and sound quality in a tiny full HD video camera that's all ready for adventure.
Whether you're off on your travels, embarking on a mountain trek, riding your bike or just walking around, the new Action Cam Mini captures fabulous point-of-view footage, wherever you're headed. Tipping the scales at just 63g, the HDR-AZ1 is just 2/3 the size of its Action Cam siblings but squeezed into its tiny dimensions, you'll find many of the same leading Sony technologies such as advanced SteadyShot and delivers eye-popping Full HD pictures, crisp stereo sound and great features that have made the Sony Action Cam famous. With the ability to capture high bit-rate recording at 50mbps in XAVC S and a 170° wide angle lens, the power of the HDR-AZ1 belies its small size.
Action Cam Mini's tough, IPX4 equivalent splash-proof design shrugs off torrential rain or muddy puddles. And if your taste for adventure is even more extreme, the supplied waterproof case protects the camera from accidental bumps and drops, sand, grit and immersion to depths of 5m.
Action Cam Mini HDR-AZ1VR package comes complete with the brand-new RM-LVR2V Live-View Remote. This handy wrist-mounted commander with screen not only lets you view shots, but also fully control and adjust settings, playback and delete footage whilst the camera is mounted on your head or handlebars. It is also able to control up to 5 cameras if you're looking for a dramatic multi POV video. The remote now logs GPS data that's transferred to the camera while you're on the move and it is through moving this GPS tracking capability to the remote that Sony has been able to achieve the downsizing it was aiming for in the AZ1.
When you're back home, the new Action Cam Movie Creator software allows you to make stunning video easily with intuitive operations. You can enjoy a wide selection of editing functions such as speed and distance overlays to add extra depth to your videos. It's a great way to re-trace every twist and turn of that bike trek or half-marathon and with the ability to shoot high frame rate recording at 120 fps, you can make beautiful and smooth slow-motion footage.
The camera's back-illuminated Exmor RTM CMOS sensor is teamed with a premium ZEISS lens and Sony's powerful BIONZ XTM processor for fabulously vivid, detailed images – even if you're shooting in fading light at the end of a long day. Advanced SteadyShot realizes stable and beautiful images whether you're walking or experiencing the rapid vibrations when riding a motorcycle.
The HDR-AZ1VR can stream live video of your adventures to the world via a live streaming site such as USTREAM, right while it's happening. You can send a message via SNS when starting the live streaming to alert friends that the action is about to commence, see the number of viewers and record the streaming video to a memory card.
An expanded range of accessories gives more options than ever for using Action Cam Mini while you're out and about. The VCT-BPM1 Backpack Mount attaches the camera securely to the strap of a rucksack. The BLT-CHM1 is a clip-on style Head Mount Kit that fixes the camera firmly to a cap for the perfect point-of-view shooting solution. The SPK-AZ1 Waterproof Case means that you don't have to worry about splashes and the NP-BY1 Rechargeable Battery Pack eliminates the worry of running out of charge. The ACC-TRDCY Accessory Kit combines a battery and USB charger and there's also a choice of four specially-tailored Action Cam Mini kits, with all the extras needed to suit your lifestyle – whether you'rea biker, snowboarder or just hungry for thrills.
The Action Cam official website which will feature product updates and product videos will launch imminently and can be accessed at sony.net/actioncam
The new HDR-AZ1 Action Cam Mini from Sony is available to pre-order now from sony.co.uk. It's on general sale in Europe from October 2014.