Sony expands 4K consumer Handycam line-up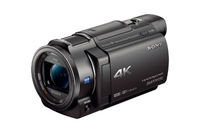 The FDR-AX33 is the newest addition to Sony's Handycam camcorder range, combining Balanced Optical SteadyShot Image Stabilisation, versatile manual operation features and striking 4k footage in a compact body – all at a great price.
Building upon the successful introduction of the FDR-AXP33 in early 2015, the FDR-AX33 gives further choice to consumers who are looking to capture their precious memories in 4K. Both models allow easy viewing of content via the supplied HDMI cable on a 4K TV but for those users who wish to share their movies instantly via an in-built projector, the FDR-AXP33 still offers this great step-up option.
Be it your child's first steps, a family wedding or a vibrant summer holiday, with the FDR-AX33 those moments will be preserved as wonderful 4K memories. Even though it matches its premium predecessor in terms of resolution and quality, the FDR-AX33 is Sony's most affordable 4K Handycam, opening up the world of 4K to an even wider audience.
Featuring Sony's Balanced Optical SteadyShot (B.O.S.S) image stabilisation technology, the FDR-AX33 delivers smooth, blur-free picture when filming handheld or making quick panning shots. It records at a high bit-rate of 100Mbps using the XAVC S format, allowing each frame to be filled with extraordinary 4k detail and due to high speed sensor readout, minimum distortion.
Packaged in an extremely compact body, the FDR-AX33 allows you to setup a simple and intuitive customisation of pro style features that fit your individual shooting conditions. A manual ring on the lens can control aperture, focus and zoom as well as white balance and AE shift, while an ISO-compatible shoe on the top of the camera allows you to add other accessories such as a light or microphone.
Composing scenes is a pleasure through the high-performance electronic viewfinder (EVF) that reveals three times the detail of predecessor models. There's also a bright and beautiful 3.0" Wide Xtra Fine LCD with WhiteMagic display that allows users to see subtle details and tones on the screen in all types of shooting environments.
To bring your valuable footage to life, your 4K video can either be played back on a compatible 4K TV through the supplied HDMI cable or on a HD TV in super sampled Full HD playback by automatic down conversion of 4K frames. Additionally you can trim 4K images from selected video frames, enlarging or cropping chosen portions of the frame in full HD quality, which can all be adjusted with either the on-screen display icon or the zoom lever.
This model also comes with the versatile Highlight Movie Maker function, an automatic, quick and easy in-cam movie editing software. The feature picks key moments in your footage such as jumps or smiles and assembles them into short-movies, which are accompanied by chosen transition effects and background music and easily shareable on social media sites from your smartphone.