Capture every detail of your life in 4K with compact new Handycam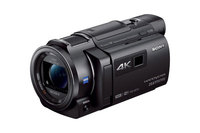 Once you've seen it, you won't settle for anything less. This year's Handycam camcorder family captures the emotion and excitement of every moment – in vibrantly immersive 4K.
Get all the detail with 4K Handycam
Sony's 2015 camcorder line-up is headed by the Handycam FDR-AXP33 that brings the eye-opening realism of 4K to an even wider audience.
As 4K Ultra-HD television sales soar globally, consumers are keen to produce their own stunning content. Handycam lets you preserve all those personal memories with 4K quality, from family get-togethers to happy holidays.
The FDR-AXP33 is approximately 30% smaller and 20% lighter than the existing FDR-AX100, expanding the appeal of 4K to an ever wider audience with unparalleled imaging power that fits comfortably in your hand. It's Sony's first 4K camcorder featuring Balanced Optical SteadyShot (B.O.SS) for satisfyingly blur-free footage when you're shooting handheld. This powerful image stabilisation system keeps 4K video exceptionally smooth and stable, from wide angle to telephoto. You'll enjoy steadier, pro-style footage – even if you're walking along and zoomed in for tight close-ups when shaky pictures can be a big problem.
Like all this year's 4K camcorders from Sony, the FDR-AXP33 records using the efficient XAVC S recording format for sparkling 4K footage that's easy to store, edit and share. Quality-conscious videographers can record at the extra-high bit-rate of 100Mbps. With loads more information in every frame, 4K footage looks clearer and sharper – even with delicate yet dynamic moving subjects like water splashes from a garden hose.
Sony's broadcast video pedigree is clear in 4K Handycam, with pro-style refinements on the FDR-AXP33 including a manual ring and button that can be assigned to functions like zoom, focus and exposure. The FDR-AXP33 also features an ISO-compatible Multi Interface shoe which accepts a variety of add-ons and expands the creative opportunities for the videographer.
Even on sun-drenched days out, composing scenes is a pleasure through the newly enhanced high-performance electronic viewfinder (EVF) that reveals three times the detail of predecessor models. There's also a bright and beautiful 3.0" Wide Xtra Fine LCD with WhiteMagicTM display that allows users to see subtle details and tones on the screen in all types of shooting environments, including outdoors in bright sunlight for reviewing footage and instantly adjusting camera settings.
After shooting, connect the FDR-AXP33 to your 4K television with the supplied HDMI cable and re-live those precious memories with vibrant detail and colour. You can also enjoy spectacular results with the camcorder connected to any Full HD TV. Huge amounts of data in every 4K frame are automatically down-converted for super-sampled Full HD playback.
As an extra refinement, Handycam FDR-AXP33 can 'trim' 4K images, cropping backgrounds and blowing up a chosen portion of the frame to fill the screen with Full HD quality. Trim size can be changed using the zoom lever or on-screen icon for beautifully framed results.
More new ways to capture and share the memories
Sony's Full HD camcorder line-up also gets plenty of exciting enhancements, helping you enjoy every moment to the max. Three new models – the HDR-PJ620, PJ410, and CX405 – offer brilliant HD recording quality and image stabilisation technologies for every user.
Standard on all Handycam models, Highlight Movie Maker lets you create and share great-looking short movies accompanied by transition effects and background music with no editing skills needed. Handycam picks and assembles your best shots, like smiles and tagged highlight points, to share with friends and family on YouTube or Facebook. Since the data is saved in MP4 format, it is easy to share the movies through social media.
Everyone in the room can enjoy the edited highlights package on Handycam models featuring a built-in projector – now with a powerful 50 lumen brightness on the FDR-AXP33.
Offered across most new models, Multi Camera Control offers exciting new creative options, letting you command compatible cameras simultaneously including key functions like Start/Stop recording, zoom, shutter release for still images and other standard settings. When using ActionCam or Lens-style cameras, users can control up to 5 cameras simultaneously.
Adding the optional VCT-CSM1 Camera Shoe Mount accessory lets you add a second camera on top of Handycam. Position the 'slave' to capture the same scene from wide and tele angles as you move around freely.
After shooting it's easy to combine footage from each camera, using PlayMemories Home to create a dynamic montage showing every point of view simultaneously.
Live Streaming on new models lets you 'broadcast' HD video footage and sound from Handycam via a wireless access point. Stream birthday celebrations or school concerts straight to the web for friends and family to enjoy as they're actually happening.
XAVC S 50Mbps high-bitrate recording and an advanced form of image stabilization – either Balanced Optical SteadyShot or Optical SteadyShot with Intelligent Active mode – are offered throughout the 2015 Handycam lineup, ensuring footage is highly detailed and blur-free. With extremely wide angle 26.8mm recording, families can shoot beautiful footage of holidays, outings and everyday life.
The new Handycam range of 4K and Full HD camcorders from Sony is available to pre-order now at sony.co.uk. Models will generally available in Europe from February 2015.